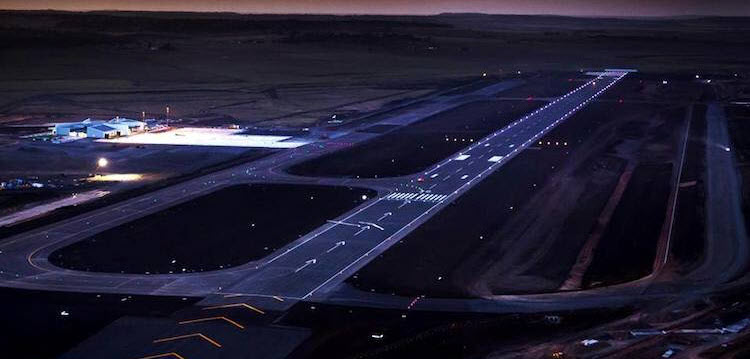 With their recent CASA approval for RPT operations, Brisbane West Wellcamp has become the first green-field airport in Australia using all LED light fixtures on their runway and taxiways. Partnering with Safegate for the supply and install of these LED lights, the airport can look forward to reduced power consumption and maintenance costs compared to a halogen installation. ADB SAFEGATE´s , Steve Rutland, noted that ADB SAFEGATE had specially developed the medium intensity runway light for the Australian market.

"This is a new fitting specific for Australian regulations and conditions. We looked at a lamp retrofit for an existing fitting, but quickly realised that this would not deliver on what our clients would expect in terms of power savings and reliability. The Safegate IDM5008 runway edge light has full CASA MOS139 certification for medium intensity operation and is the only fitting on the market developed for this application for scratch."
ADB SAFEGATE drew on its wide experience in LED airfield lighting to produce the fitting based on established technology. "Australia has a very unique requirement in both light output and environmental conditions" said Mattias Hallberg, SAFEGATE's product leader for airfield lighting. "We knew that developing a new fitting with our proven LED electronics would give the best performance, and it is very pleasing to see such a great end result at Brisbane West Wellcamp."
For more information on this project, contact: australia@adbsafegate.com
Product brochure available here.
ADB SAFEGATE is a leading provider of intelligent solutions that deliver superior airport performance from approach to departure. The company partners with airports and airlines to analyze their current setup and operations, identify bottlenecks, and jointly solve them using a consultative approach that enables airports to improve efficiency, enhance safety and environmental sustainability, and reduce operational costs. Our integrated portfolio includes solutions and services that harmonize airport performance, tackling every aspect of traffic handling and guidance, from approach, runway and taxiway lighting, to tower-based traffic control systems, and intelligent gate and docking automation. ADB SAFEGATE has more than 900 employees in more than 20 countries and operates in more than 175 countries, serving more than 2,000 airports