Lahore International Airport is now weather proofed. During an intense but short project that lasted only 12 months, the airport's nominal capacity has been upgraded to handle 29 aircraft movements per hour, regardless of weather. ADB SAFEGATE worked closely together with the airport and Pakistan's Civil Aviation authorities to increase airport performance and upgrade capacity to beat the challenging foggy winter climate. With a complete integrated system in operation, from the runway up to the tower, Lahore is now reaping benefits of increased capacity and is also able to accommodate diversions from neighboring airports.
Foggy winters used to challenge second largest airport in Pakistan
From mid-December until February, winter climate brings dense fog to Lahore City in Punjab, in eastern Pakistan which historically has been causing difficulties for the airport, the airlines as well as huge inconvenience for the passengers not reaching their destinations in time. The fog often stays for weeks in Lahore and periods of low visibility has historically meant flight schedules to go haywire due to diversions and cancellations. When aircraft have to divert it becomes extremely expensive for both airlines and airports and it also causes a lot of inconvenience for the passengers. When Lahore gets fog the neighboring airports often gets fog too.
Weather proofing Lahore's airport in only 12 months
Pakistan Civil Aviation Authority (PCAA) decided to proactively invest in systems to prevent further flight delays and diversions caused by low visibility and bad weather conditions. In June 2015, ADB SAFEGATE and Lahore Allama Iqbal International Airport (AIIP) signed a contract to work together towards weather proofing the airport. Normally a project as complex as this can take years to implement but here it was to be completed in only 12 months! Christian Bartölke, project manager at ADB SAFEGATE, tells us how the team made this possible. "By sheer hard work! The project was completed in record time by putting in 12 to 15 hours on daily basis, but the overall key to the successful implementation is great teamwork. Installing all this equipment was only possible because we all worked together as one team. Airport, suppliers, agent, ATC and Civil Aviation – I guess everybody was clear about what each of us had to do and that there was no time to waste".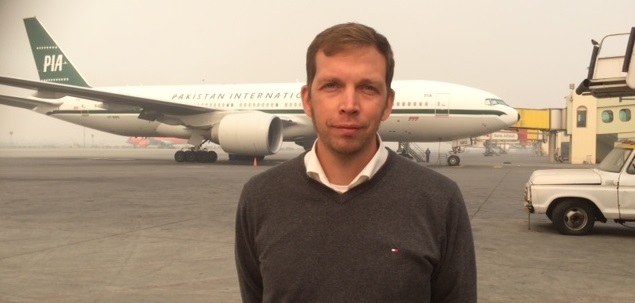 Landing in Lahore possible even when visibility is down to 50 metres
The first part of the project focused on enabling the airport to remain open and operational during fog, and support landing of aircraft in low visibility. This guaranteed five movements per hour. The project was completed in November last year, just before winter set in. CAT III b landing conditions for approach were enabled with new Airfield Ground Lighting Systems (AGL) and Instrument Landing System (ILS). AIIP was previously using ILS since 1999, which allowed the aircrafts to land in visibility down to 350 meters only, whereas ILS category III b operates in visibility as low as down to 50 meters. AIIP is now the second airport in South East Asia using such an advanced Instrument Landing System.
Maintain throughput in any visibility condition
The next part of the project was to enable the airport to maintain the same throughput in all weather conditions. The target was set at handling 25 movements per hour. This included installation and commissioning of ASP and Airfield Lighting equipment for taxiways and apron, 11 new Advanced Visual Docking Guidance Systems, new tower systems as Electronic Flight Strips, A-SMGCS including SMR and MLATs together with completely new Concept of Operations (CONOPS). The airport is now able to manage as many as 29 movements per hour even during bad weather conditions, 4 more hourly movements than the original target.
Economic doors open for the city
Since the completion of the project in Lahore, AIIAP is among the world's few airports with the capacity to handle and maintain the same throughput in all visibility conditions. With an operational view where all different parts of the airport work together as one, airport performance is optimized. With a complete integrated system in operation, from approach to departure, Lahore is now reaping benefits of increased capacity – existing airlines as well as new airlines want to increase their number of flights! At ADB SAFEGATE, we rejoice with the airport on these developments and are proud to be part of realizing this project in less than 12 months! As Rashid Hussain, Airport manager, Pakistan Civil Aviation expressed in an earlier interview with ADB Safegate, "With more flights, more economic doors are being opened for the city". It is as simple as that.
Our real objective is Customer Success
"The second phase of the project was successfully completed on time. But now the real work starts," says Henrik Linderberth, Regional Manager, Middle East at ADB SAFEGATE. We will offer operational support and maintenance support service 24/7. We will continue working together with the airport with reevaluation, ATC training and workshops to guarantee continued superior airport performance. The coming two years will be devoted to uncapping full potential of the delivered system, and excellence in operations.
Our long term objective is always customer success!
ADB SAFEGATE is a leading provider of intelligent solutions that deliver accelerated airport performance from approach to departure. The company partners with airports and airlines to analyze their current setup and operations, identify bottlenecks, and jointly solve them using a consultative approach that enables airports to improve efficiency, enhance safety and environmental sustainability, and reduce operational costs. Our integrated portfolio includes solutions and services that harmonize airport performance, tackling every aspect of traffic handling and guidance, from approach, runway and taxiway lighting, to tower-based traffic control systems, and intelligent gate and docking automation. ADB SAFEGATE has more than 900 employees in over 20 countries and operates in more than 175 countries, serving more than 2,000 airports.