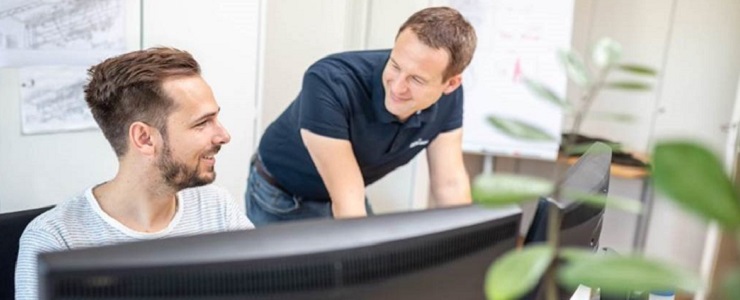 OUR PEOPLE. Did you know that our highly skilled software team is developing software and systems for the tower and air traffic controllers at airports all over the world? Today we introduce you to the ADB SAFEGATE Tower Team. Join us on a visit to beautiful Graz in Austria to meet Benjamin and Ralf, two software experts and part of our R&D Tower Team!
With people working from more than 26 countries and close to 50 different nationalities that make up the ADB SAFEGATE family, we bring a well-rounded perspective to some of the world's toughest yet fascinating aviation projects. Our ATC solutions are installed at 260+ towers, helping air traffic controllers find the most efficient way from touchdown to gate.
We asked Ralf Gamillscheg and Benjamin Kreinbucher what it's like to be part of the ADB SAFEGATE Tower Team
Name: Ralf Gamillscheg


Job title: System Architect
Tell us something about your daily job – what is your job about?
– At ADB SAFEGATE we have up to 7 teams working in R&D Tower on our OneControl product. It is my job to coordinate these teams in technical matters. To that end I have daily meetings with people from all teams. In addition, I am creating the technical backlog which contains implementation tasks for improving our software architecture and infrastructure.
What do you like most about working at ADB SAFEGATE?
– It is a very interesting business, very international. I have the sense that what we do is really useful. The work is varied, and it is for sure never boring! There are great people working here, in a respectful collaboration.

Name: Benjamin Kreinbucher
Job title: Senior Software Developer & Product Owner
Tell us something about your daily job – what is your job about?
– My daily business is creating concepts to model the air traffic management environment of an aerodrome in order to create software supporting air traffic controllers all over the world in their daily work. It is about understanding how air traffic controllers think in specific situations and how they handle these situations. My working days include preparation of architecture/design together with my colleagues, accompanying implementation and doing acceptance.
What do you like most about working at ADB SAFEGATE?
– The combination of all the varied tasks that are included in the air traffic management business, and creating software that is used every day running in a very demanding environment. I enjoy working with people having a similar passion for aviation.
Raising safety and throughput with smarter ATC Systems
Our knowledge is based on installations in more than 260 towers. ADB SAFEGATE has a portfolio that enables a fully integrated tower, i.e. one solution that includes A-SMGCS, E-STRIPS, INFO System, DMAN, radar systems, AGL, system integration, consulting and third-party systems.
Are you also interested in working at ADB SAFEGATE?
Check out our open positions on our career pages!
We would love to hear from you!
ADB SAFEGATE provides integrated solutions that raise efficiency, improve safety, boost environmental sustainability and reduce operational costs for airports, airlines and ANSPs. The company works with airports and airlines to solve operational bottlenecks from approach to departure. Solutions encompass airfield lighting, tower-based traffic control systems, intelligent docking automation and services, as well as applying advanced IT and analytics to deliver industry-leading Total Airport Management. For more information about ADB SAFEGATE, please visit our website at adbsafegate.com.