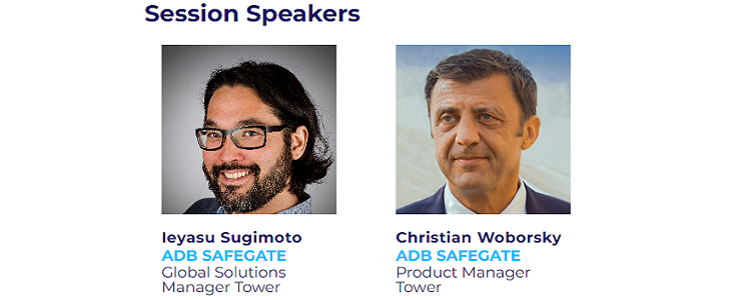 GENEVA. We are excited to announce that ADB SAFEGATE´s experts in air traffic management, Ieyasu Sugimoto and Christian Woborsky, will be speaking at the FABEC OPS Theatre on March 9th (3.30 pm) during the Airspace World event. 
Air Traffic management experts from ADB SAFEGATE to speak at Airspace World 2023
ANSPs, suppliers, ATM professionals, innovators and new technology owners will gather at the Airspace World event in Geneva, Switzerland  for a three-day packed agenda of learning, connecting, collaborating, sharing, and business. On Thursday, March 9 (3:30 pm) at the FABEC OPS Theatre, Ieyasu Sugimoto and Christian Woborsky from ADB SAFEGATE will be presenting about " Increasing safety and efficiency of ground movement using adaptive lights".
Ieyasu Sugimoto and Christian Woborsky are experts in air traffic management and both have extensive experience working with ANSPs and airports around the world. Their presentation "Increasing safety and efficiency of ground movement using adaptive lights" promises to be informative and thought-provoking, and we invite you to join us at the FABEC OPS THEATRE to learn more about this exciting new technology.
The presentation will explore how adaptive lighting technology can improve airport safety, efficiency and sustainability. They will discuss the benefits of using this technology to enhance ground movements at airports, expedite taxi operations leading to reduced CO2 emissions, and increase situational awareness and safety for pilots and ground crews.
Sesssion overview
ADB SAFEGATE delivers safer routing and guidance using innovative, intelligent taxiway lights. Instead of relying on green taxiway centerline lights only, ADB SAFEGATE introduced adaptive taxiway centerline lights, which allows the light that is emitted to be switched between two colors. This pioneering innovation raises A-SMGCS routing and guidance services to the next level.
There are several operational situations for which pilots have been asking for some time to improve safety via the use of "stop lights" (similar to traditional road traffic lights), and that is now possible with the capability to switch lights from green to red:
During low visibility, high traffic density or even at normal visibility, there is no means to stop an aircraft other than radio communication from tower to pilot. Switching (automatically) a green taxiway venterline light to red is a quick way to give a clear indication to the pilot to stop without the need of radio telecommunication.
The use of adaptive taxiway lights that can be switched from green to red gives clarity during Follow the Greens operations and allows to overcome a significant shortcoming of the current Follow the Greens concept, which is the ambiguity of how a pilot has to react if the aircraft reaches the end of a green light band, with another green light band continuing after some distance. Furthermore, a clear stop indication will allow pilots to accurately control the aircraft speed and reduce stops and/or braking actions.
Using adaptive taxiway lights allows for the introduction of further safe guidance concepts that exist in parallel to Follow the Greens operations which can be implemented much easier since there are no changes to existing ATC operations; however, the situational awareness of pilots (and pushback or other vehicle drivers) is vastly improved.
To learn more, be sure to attend the presentation on March 9 at 3:30 during Airspace World
See the presentation "Increasing safety and efficiency of ground movement using adaptive lights" by Ieyasu Sugimoto and Christisnipan Woborsky from ADB SAFEGATE when they are speaking on March 9 (3:30 pm) at the FABEC OPS Theatre during the Airspace World event.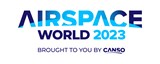 For more details, see below:
ADB SAFEGATE provides integrated solutions that raise efficiency, improve safety, boost environmental sustainability and reduce operational costs for airports, airlines and ANSPs. The company works with airports and airlines to solve operational bottlenecks, helping them navigate today's challenges and prepare for tomorrow. Solutions encompass airfield lighting, power and control systems, smart airport and tower software solutions, intelligent docking automation and apron management, as well as aftermarket services. With more than 1,200 employees, ADB SAFEGATE serves more than 2,500 airports in more than 175 countries, from the busiest and largest like Atlanta, Beijing, Dubai, Heathrow, Charles De Gaulle, Frankfurt, Istanbul, New Delhi and Changi to fast-growing airports across Asia and Africa.