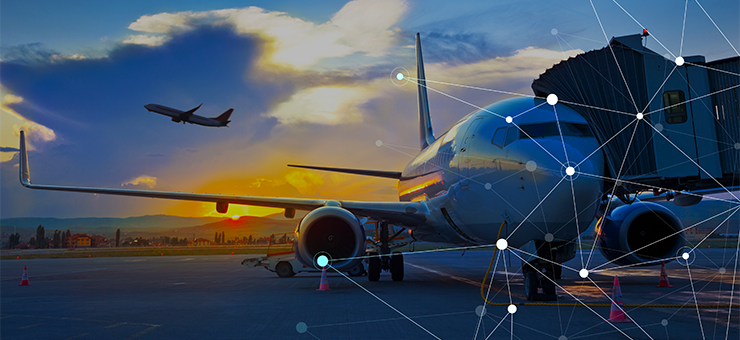 ADB SAFEGATE's Intelligent AiPRON is highlighted in Passenger Terminal World's SHOWCASE 2023. The new operational platform incorporates augmented intelligence into apron operations to facilitate a new era of turnaround efficiency, leading to greater savings and improved safety and performance.
Read the full article published in Passenger Terminal World SHOWCASE 2023.
According to the International Air Transport Association (IATA), global aviation has the opportunity to reduce turnaround operation costs by US$10.7bn by 2030. This figure almost sounds too good to be true, particularly considering the huge industry-wide losses incurred during the pandemic. But technological advances are leading to a new era in apron operations.
ADB SAFEGATE defines 'turnaround' as all the procedures from an aircraft landing to it taking off again. To achieve a huge reduction in costs, improvements would need to be made to the entire process, including the crucial elements of taxiing in, docking, ground handling, safe pushback and taxiing out. This is not an easy task.
The solution must provide a true 360° view of apron operations. According to the Digital Transformation of Airside Operations survey conducted by Frost & Sullivan on behalf of ADB SAFEGATE, 52% of airports define software and systems that plan or control airside operations as a focus for new deployments.
To meet these requirements, ADB SAFEGATE has developed the state-of-the-art Intelligent AiPRON platform, combining the company's extensive experience across airfield, apron, tower and terminal operations and integrating them into a single technological ecosystem. This single system focuses on using machine learning technologies to optimize taxiing, docking and pushback procedures and improve the efficiency of ground handling operations as a whole.
Augmented intelligence
In recent years, there have been many discussions about digital transformation, which could be compared in scale to the huge changes brought about by the Industrial Revolution in the 18th century, which led to improved productivity, lower costs and new markets. As such, digitalization of the apron should result in an intelligent solution that brings value to all stakeholders, focusing on cost reduction, additional revenue streams and improved safety.
The AiPRON platform is founded on the concept of augmented intelligence, a subsection of AI machine learning developed to enhance human intelligence rather than operate independently of it or outright replace it. Augmented intelligence is designed to assist and improve the quality of human decision making due to the availability of better, more thorough analysis of information and data collected. Essentially, it is not good enough to tell the user there is going to be a problem, AiPRON constantly analyzes the data and creates recommendations on how to improve the turnaround process or mitigate any foreseeable issues to stay on top of on-time performance.
A key part of the platform is the holistic turnaround tool AiPRON 360, specifically created to manage turnaround processes and flexible enough to be used by airports, airlines and ground handlers, which each have different priorities but ultimately one shared goal – to operate safely and on time. AiPRON 360's agnostic approach of gathering data using a range of technologies – from computer vision or sensorization to simple manual data entry – allows airports and airlines to create futureproofed operational elasticity, which the aviation industry has been missing in recent years. AiPRON 360 seamlessly integrates with existing Safedock Advanced Visual Docking Guidance Systems (A-VDGS) and SafeControl Apron Management [now AiPRON Manager] solutions installed on more than 12,000 gates around the world, further capitalizing on existing investments by airports and airlines. The system can also be implemented where A-VDGS are not present.
Read the full article here.
ADB SAFEGATE provides integrated solutions that raise efficiency, improve safety, boost environmental sustainability and reduce operational costs for airports, airlines and ANSPs. The company works with airports and airlines to solve operational bottlenecks, helping them navigate today's challenges and prepare for tomorrow. Solutions encompass airfield lighting, power and control systems, smart airport and tower software solutions, docking automation and intelligent apron management, as well as aftermarket services. With more than 1,200 employees, ADB SAFEGATE serves more than 2,500 airports in more than 175 countries, from the busiest and largest like Atlanta, Beijing, Dubai, Heathrow, Charles De Gaulle, Frankfurt, Istanbul, New Delhi and Changi to fast-growing airports across Asia and Africa.