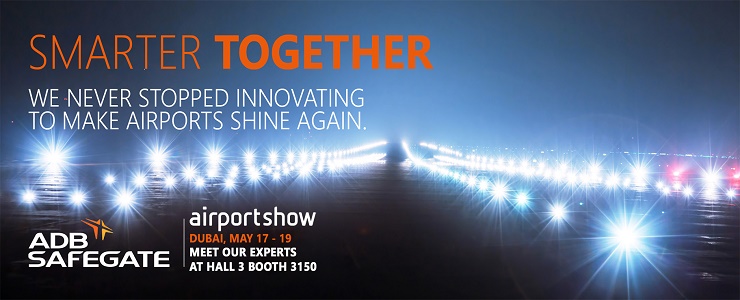 DUBAI. As we welcomed 2022 with renewed optimism for the recovery of global aviation, we invite you to visit the ADB SAFEGATE booth 3150 in hall 3 at Airport Show 2022 to discover our latest innovations for the airfield, apron, and airside services.

Join us in planning the next decade of growth for our industry at the world's largest annual airport event and the finest meeting place for the aviation sector to discuss how to succeed in today's more competitive and recently disrupted world. Our booth will feature a range of solutions and services across the airfield, gate, tower, airport systems and services, which support a smarter restart of airport operations.
During the pandemic, we never stopped innovating, and we're excited to offer demonstrations of our latest developments in our booth. Whether on the AIRFIELD, in the TOWER, at the GATE, or around the TERMINAL, our innovative solutions and services can transform the way you operate, enabling your airport to meet changing demands while delivering a superior passenger experience.
Visit us on stand 3150, hall 3 at the Airport Show in Dubai, 17-19 May to see:
• Our new vision of Airfield 4.0 that uses wireless telemetry to collect real-time data from multiple sources, giving airports a complete overview of their airfield's status allowing them to make faster and more accurate decisions.
• Our latest generation of flexible gate systems – including our mobile web-based SafeControl Apron Management solution – can enable operational elasticity to help airports and airlines easily and quickly scale up or down to meet changing demand.
• Our cloud enabled ALIS service tool ensures airside maintenance is maintained with minimum disruption and cost. We'll also be introducing some exciting new service offerings.
• Our OneControl solution puts air traffic controllers in the driver's seat, bringing all the information they need onto one screen.
• Our Design & Consulting services can help you understand the existing status of your airside operations and infrastructure and help you decide when and how to develop them.
For more information about our presence, contact us at marketing@adbsafegate.com
Looking forward to meeting you in person in Dubai!
ADB SAFEGATE is a leading provider of intelligent solutions that deliver superior airport performance from approach to departure. The company partners with airports and airlines to analyze their current setup and operations, identify bottlenecks, and jointly solve them using a consultative approach that enables airports to improve efficiency, enhance safety and environmental sustainability, and reduce operational costs. Our integrated portfolio includes solutions and services that harmonize airport performance, tackling every aspect of traffic handling and guidance, from approach, runway and taxiway lighting, to tower-based traffic control systems, and intelligent gate and docking automation. ADB SAFEGATE has more than 1200 employees in more than 20 countries and operates in more than 175 countries, serving more than 2,500 airports.