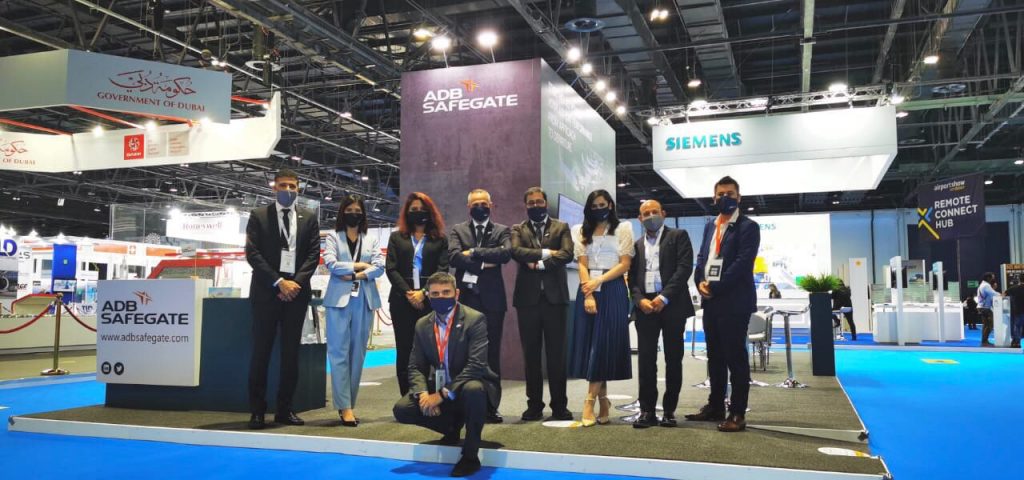 Thank you all for for visiting us at the Airport Show this special year and thank you for all interesting discussions about airport recovery. We´re here to help you increase airport performance with services and solutions for gate, airfield and the tower. See you at the next event, at your airport or maybe on www.adbsafegate.com.
DUBAI. As the first international event of its nature since the outbreak of COVID-19, the 20th edition of the Dubai Airport Show took place in a hybrid format — physical and digital – where airport professionals and tech leaders met for three days with a renewed sense of optimism about regaining the lost tempo of expansion and growth.
Aziz Cakir and the Middle East team had the honor to welcome H.H. Sheikh Ahmed bin Saeed Al Maktoum, President of the Dubai Civil Aviation Authority, Chairman of Dubai Airports, Chairman and Chief Executive of Emirates Airline and Group to the ADB SAFEGATE stand.
This year at the event, ADB SAFEGATE had some extra focus on gate solutions and turn around management. On our online product center you can find more information about A-VDGS Solutions, Safe Control Management System (SAM) and other gate solutions.
Also feel free to contact us at any time if you have questions or want to discuss and then we hope to see you soon at the next event somewhere in the world..
ADB SAFEGATE is a leading provider of intelligent solutions that deliver superior airport performance from approach to departure. We partner with airports and airlines to analyze their current structures and operations, and jointly identify and solve bottlenecks. Our consultative approach enables airports to improve efficiency, enhance safety and environmental sustainability, as well as reduce operational costs. Our portfolio includes solutions and services that harmonize airport performance, tackling every aspect of traffic handling and guidance, from approach, runway and taxiway lighting, to tower-based traffic control systems and intelligent gate and docking automation. ADB SAFEGATE has 900+ employees in more than 20 countries and serves some 2,500+ airports in more than 175 countries.