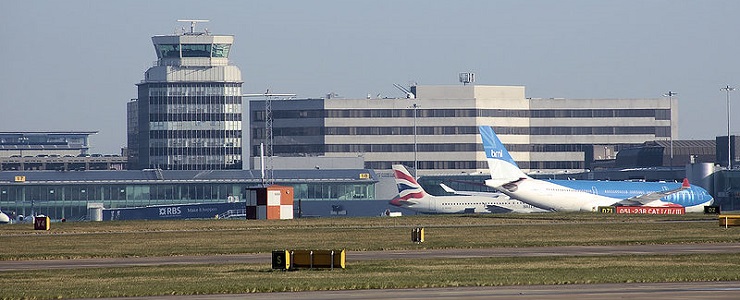 ADB SAFEGATE's airfield ground lighting (AGL) project for Manchester's newly resurfaced runway is a shining testimony to how ADB SAFEGATE's expertise help airports lessen their environmental impact, improve safety reliability and maintainability. ADB's expertise help airports lessen their environmental impact, improve safety reliability and maintainability.

In 1926, when some of Manchester city's visionary residents demanded a permanent airport, little did they imagine that nearly eight decades later, Manchester Airport would be UK's busiest airport in passenger numbers, outside of London! The existing airport was built when Barton Aerodrome, which was the result of the citizen's protests, was considered unsuitable for larger aircraft. It opened to air traffic in 1938, and has not looked back since! With close to 18 million passengers annually using over 60 airlines to travel to around 200 destinations, Manchester Airport is the world's gateway to Northern England.
Managed by Manchester Airports Group, the airport is a frontrunner in advanced technology investments and sustainable operations. One of the first airports in the UK to promote use of LED AGL in its goal to operate in a sustainable manner, Manchester Airport first replaced halogen lights with LEDs in 2009, selecting ADB as a dominant supplier. However, their association dates back to 1993 when ADB SAFEGATE first installed runway and taxiway fittings at the airport. Its second runway built in 1997-98 included all ADB SAFEGATE fittings. Over the years, every expansion has always included the installation of ADB SAFEGATE lights.
As a long-standing partner, ADB SAFEGATE was asked to set up a trial installation of its new AD-Light range at Manchester Airport when the airport decided to have its original runway resurfaced in 2010-11. This trial was a big success, and was very well received by the pilots who were highly appreciative about the clarity of light and the dimming characteristics, which reduced confusion between white and yellow lighting and eliminated risk of glare respectively. In fact, when asked about the quality of lighting, one of the pilots had this to say, "It's like watching TV in HD!"
Small wonder then, that ADB SAFEGATE was awarded a €1.2 Million contract to supply and install F-Range Runway fittings with LED taxiway fittings and over 100 ADB CRE (Low Harmonic) Constant Current Regulators. The project which commenced in June 2011 was completed within six months.
In addition to replacing the runway and taxiway lighting, ADB SAFEGATE replaced the airport's existing Siemens CCRs which were installed in the late 1980's. The new CCRs are fully automated, and use a "plug and play" concept, making them easier to operate and maintain. Furthermore, these CCRs rely on software algorithms, which manage most of the power control tasks, to ensure Manchester Airport enjoys considerable cost and time savings.
As our first customer in the UK, Manchester Airport was a starting point for our success in the country . Our close relationship stems from our shared commitment to advanced technology and sustainability , and this project is yet another example of our technological innovation in sustainable AGL. W e are proud to be a preferred partner to the Manchester Airport Group (MAG) that is so focused on sustainable operations. Christian Onselaere CEO, ADB SAFEGATE.
ADB SAFEGATE is a leading provider of intelligent solutions that deliver superior airport performance from approach to departure. The company partners with airports and airlines to analyze their current setup and operations, identify bottlenecks, and jointly solve them using a consultative approach that enables airports to improve efficiency, enhance safety and environmental sustainability, and reduce operational costs. Our integrated portfolio includes solutions and services that harmonize airport performance, tackling every aspect of traffic handling and guidance, from approach, runway and taxiway lighting, to tower-based traffic control systems, and intelligent gate and docking automation. ADB SAFEGATE has more than 900 employees in more than 20 countries and operates in more than 175 countries, serving more than 2,000 airports.