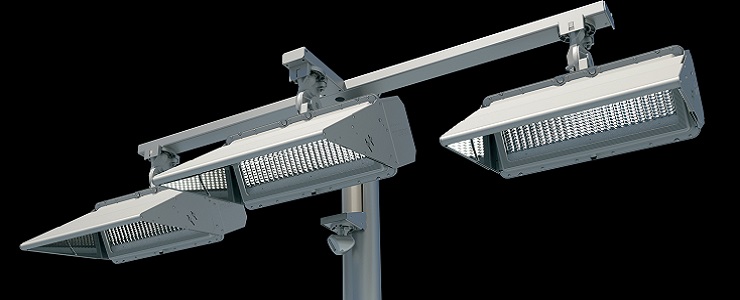 ADB SAFEGATE pioneered the use of LED technology for airfield ground lighting, and as LED quickly becomes the industry standard, two out of three LED lights installed on airfields worldwide are from ADB SAFEGATE.Now, ADB SAFEGATE is bringing airports in North and South America a new cost-effective and reliable option for high-mast LED apron lighting through a special partnership with U.S.-based lighting expert, Musco Lighting.

"Our primary objective is to help our customers operate and maintain a safer, efficient and sustainable airport," said Joe Pokoj, CEO Americas, ADB SAFEGATE. "Our extensive experience working with airports, and Musco's lighting expertise, creates a win-win situation. We are excited to bring our customers a cost-effective LED solution for apron lighting that will also benefit their operations and the environment."
The first project under the new partnership has ADB SAFEGATE providing high-mast apron lighting at Boston Logan International Airport's Terminal B with Musco's Total Light Control – TLC for LED® technology retrofitted on existing poles.
Using Musco's 40-year history of application and system design expertise, TLC for LED technology provides light with pinpoint precision and a level of light control and uniformity that can't be matched. The company's factory-aimed, wired, and tested system uses a combination of reflectors and patented optics to direct light where it is needed without creating disruptive glare for pilots, air traffic controllers, and ground crews.
The prior lighting at Logan was not energy-efficient and required frequent maintenance and lamp replacements that impacted airport operations. With the new system in place, energy consumption has been reduced by 47 percent at Logan International Airport. This energy reduction will reduce emissions by 1,000 tons of CO2, which is equivalent to taking more than 200 cars off the road for one year.
A 10-year parts and labor warranty, backed by Musco's team of trained technicians, eliminates all maintenance issues and related costs for the next decade. In all, the airport will cut operating costs by more than $265,000 over the next 10 years.
"ADB SAFEGATE is known for helping the busiest airports all over the world operate more efficiently and smoothly with an innovative mix of intelligent solutions. We're proud to be moving ahead together with this partnership," said Jeff Rogers, Vice President of Musco. "We're confident that airports across North and South America will realize some impressive benefits and evolve their operations in ways that will improve the experience for everyone."
Musco's LED systems are available as a complete solution, from foundation to pole, or as a retrofit on existing structures. Your ADB SAFEGATE sales manager is your point of contact for Musco Lighting. We will work with Musco to prepare a professional lighting calculation and cost proposal and create a customized build solution to meet the specific needs of your airport. ADB SAFEGATE and Musco will be there to support you from the planning stage to installation and through the life of your lighting solution. Your customized solution will include an impressive warranty and maintenance program covering parts and labor that guarantees you won't have to touch your apron lighting or pay to maintain it for 10 years.
ADB SAFEGATE is a leading provider of solutions that boost efficiency, improve safety and environmental sustainability and reduce operational costs for airports, airlines and ANSP's. The company works with customers to identify performance bottlenecks and jointly solve them through integrated solutions that improve airport and airline performance. These solutions address every aspect from approach to departure – airport traffic handling and guidance, airfield lighting, tower-based traffic control systems, intelligent gate and docking automation, services and advanced analytics. ADB SAFEGATE has more than 1,100 employees across 45 nationalities in 25 countries, and operates in more than 175 countries, serving more than 2,500 airports globally, from the busiest and largest like Atlanta, Beijing, Dubai, Heathrow, Charles De Gaulle, Amsterdam, Frankfurt, Istanbul, New Delhi and Changi, to fast-growing airports across Asia and Africa.