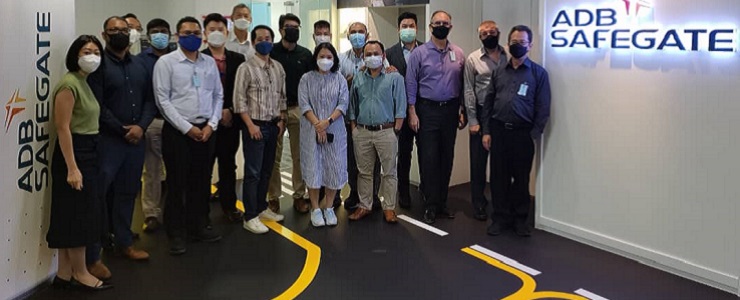 KUALA LUMPUR. ALL WEATHER INC (AWI) kicked off its first ever Asia region workshop at ADB SAFEGATE's Regional Centre of Excellence in Kuala Lumpur, Malaysia. This workshop was designed to give the regional business partners insights about the product offerings of AWI such as aviation weather systems, air traffic control systems, custom systems engineering and precision meteorological sensors and systems.

Comprehensive one-day business partner workshop
The workshop, being ALL WEATHER INC´s (AWI) first in the region following its acquisition by ADB SAFEGATE in January 2022, was spearheaded by ADB SAFEGATE's Vice President of Asia, Waqas Ahmed Sheikh, with presentations by AWI's Vice President of International Sales, Remus Zaharescu and Steve Glander. The comprehensive one-day workshop allowed business partners from Indonesia, Thailand, Malaysia, Hong Kong, Bangladesh, Vietnam, Nepal, Sri Lanka, Singapore, South Korea, Taiwan and Philippines to learn about AWI, the modus operandi behind the ADB SAFEGATE – AWI integration, its products and the USPs.
ADB SAFEGATE's Regional Centre of Excellence to host more trainings and knowledge sharing sessions in Q3/Q4 2022
With the international borders opened and travel restrictions eased, ADB SAFEGATE's Regional Centre of Excellence in Kuala Lumpur is on the right runway to host more seminars, workshops and sessions in line with the facility's objective to serve as the regional training and knowledge sharing hub.
The trainings, which will incorporate product knowledge, market trend and competitor analysis, specific selling propositions and so forth, are conducted by our industry experts and experienced in-house trainers. These trainings and workshops will ensure that our business partners are equipped with adequate information to render better service and satisfactory dealings as ADB SAFEGATE continues its regional expansion and market sustainability.
About All Weather Inc
All Weather Inc (AWI) is a subsidiary of DBT Transportation Services LLC, a company specializing in weather systems, sensor technologies and services for the aviation industry such as AWOS – Automated Weather Observing Systems, RVR – Runway Visual Range, Meteorological sensors, LLWAS – Low Level Windshear Alert Systems, ATIS/D-ATIS – Automatic Terminal Information Service, IDS – Integrated Display Systems. It was acquired by ADB SAFEGATE with the official announcement made in Sacramento, California, on January 4th, 2022. AWI's FAA, ICAO, and WMO compliant systems are currently operating at 500 airports worldwide.
ADB SAFEGATE is a leading provider of intelligent solutions that deliver superior airport performance from approach to departure. The company partners with airports and airlines to analyze their current setup and operations, identify bottlenecks, and jointly solve them using a consultative approach that enables airports to improve efficiency, enhance safety and environmental sustainability, and reduce operational costs. Our integrated portfolio includes solutions and services that harmonize airport performance, tackling every aspect of traffic handling and guidance, from approach, runway and taxiway lighting to tower-based traffic control systems, and intelligent gate and docking automation. ADB SAFEGATE has more than 1200 employees in more than 20 countries and operates in more than 175 countries, serving more than 2,500 airports.