VIDEO. At inter airport 2017, Tom Werdefroy, Global Product Manager at ADB SAFEGATE, showed our new Power HF solution which is 33% smaller and 30% more efficient than conventional power systems.

The Power HF range uses innovative transistor technology to achieve its compact size. Three or more Power HF units can fit in the same space as a single conventional 6.6A CCR. This reduces overall CCR substation size and simplifies installation and maintenance. The transistor technology also delivers dynamic and precise power regulation that boosts energy efficiency by up to 30%, reducing the total cost of ownership of airfield ground lighting still further.
To find out more about the Power HF Solution: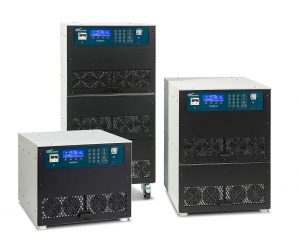 – watch the video or
– read the press release
You can also contact tom.werdefroy@adbsafegate.com at ADB SAFEGATE office in Brussels.
ADB SAFEGATE is a leading provider of intelligent solutions that deliver superior airport performance from approach to departure. We partner with airports and airlines to analyze their current structures and operations, and jointly identify and solve bottlenecks. Our consultative approach enables airports to improve efficiency, enhance safety and environmental sustainability, as well as reduce operational costs. Our portfolio includes solutions and services that harmonize airport performance, tackling every aspect of traffic handling and guidance, from approach, runway and taxiway lighting, to tower-based traffic control systems and intelligent gate and docking automation. ADB SAFEGATE has 900+ employees in more than 20 countries and serves some 2,500+ airports in more than 175 countries.