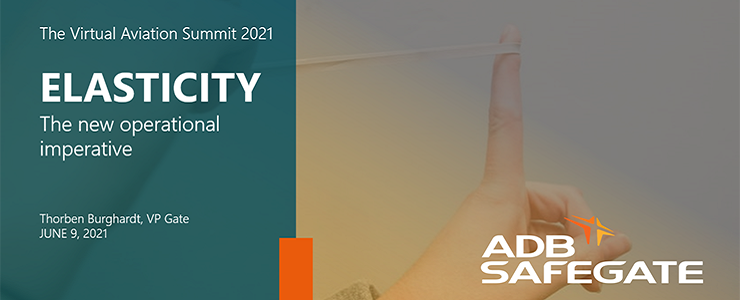 EVENT. The annual ADB SAFEGATE UK & Ireland Aviation Summit took place virtually this year on June 9, 2021. Under the theme "Transformation: Let's Make It Work", the Summit looked at how the aviation industry can meet current and upcoming challenges with new solutions and innovative approaches. Here we share one of the video recorded presentations from the Summit that introduces the new concept of operational elasticity.
During ADB SAFEGATE's annual UK & Ireland Aviation Summit a mix of industry speakers across Europe – and abroad – described how innovative services, products and solutions are already being implemented to bring about the concrete transformations necessary for the industry.
Elasticity – The New Operational Imperative
As an exclusive for the Aviation Summit, Thorben Burghardt, ADB SAFEGATE's Vice President for Global Gate Solutions, introduces the new concept of operational elasticity in his presentation, Elasticity – The New Operational Imperative.
Thorben is joined by Michael McElvaney from Jacobs. Michael has many years of airport executive airport operational management experience and currently leads Jacob's global operational readiness and airport transition practice.
Watch the presentation to find out why elasticity is the new design paradigm, and learn how it can lead to higher efficiencies while meeting the latest market need. More adaptable and resilient systems and processes, and flexible business models can help airports scale up or down to manage traffic volatility, and meet changing demand.
With ADB SAFEGATE, complex aircraft and vehicle traffic flows and other procedures on the apron are managed through integration and automation of the aircraft parking and turnaround process. The result is a safer, more predictable and efficient gate operation that shortens the aircraft turnaround and increases capacity to improve airline and airport performance. Read more online about our solutions for gate or contact us at ADB SAFEGATE directly.
ADB SAFEGATE provides integrated solutions that raise efficiency, improve safety, boost environmental sustainability and reduce operational costs for airports, airlines and ANSPs. The company works with airports and airlines to solve operational bottlenecks from approach to departure. Solutions encompass airfield lighting, tower-based traffic control systems, intelligent docking automation and services, as well as applying advanced IT and analytics to deliver industry-leading Total Airport Management. For more information about ADB SAFEGATE, please visit our website at adbsafegate.com.