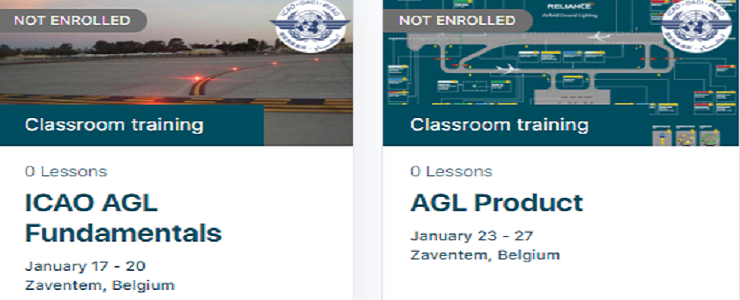 ZAVENTEM, BELGIUM. The ADB SAFEGATE Training Academy will start 2023 strong! Two of our best seller training events are scheduled in Brussels in January: the AGL+1 Basics of Airfield Ground Lighting from the 17th to the 20th, and the AGL+2 Product training from the 23rd to the 27th. Join us next year in Brussels and make sure to develop your Airfield skills.
These 2 training events aim at providing the right knowledge about both the international airfield regulations and our AGL equipment. It is a must have before operating, maintaining or troubleshooting AGL circuits!
AGL+1 – Basics of Airfield Ground Lighting from the 17th to the 20th.
The AGL Principles training provides an introduction to the requirements of airfield lighting and a general overview of AGL products and systems applications (i.e. characteristics, features and functionality). It introduces the international standards and explains the principles of maintenance and safety.
Read more about the AGL+1 Training.

AGL+2 – Product training from the 23rd to the 27th.
The AGL product training demonstrates the practical aspects of the theory covered in the AGL fundamentals course. This training explores in detail the functionality, structure, installation and maintenance of products and systems, providing an extensive understanding of product safety. It helps establish practical maintenance processes related to products and systems (in terms of spare parts, tools, frequency, etc).  Read more about the AGL +2 Training

Be sure not to miss this opportunity, book your tickets now and join us in Brussels and March 2023.
We, as the ADB SAFEGATE training and service team are looking forward to welcome you!
ADB SAFEGATE provides integrated solutions that raise efficiency, improve safety, boost environmental sustainability and reduce operational costs for airports, airlines and ANSPs. The company works with airports and airlines to solve operational bottlenecks, helping them navigate today's challenges and prepare for tomorrow. Solutions encompass airfield lighting, power and control systems, smart airport and tower software solutions, intelligent docking automation and aftermarket services. With more than 1,200 employees, ADB SAFEGATE serves more than 2,500 airports in more than 175 countries, from the busiest and largest like Atlanta, Beijing, Dubai, Heathrow, Charles De Gaulle, Frankfurt, Istanbul, New Delhi and Changi to fast-growing airports across Asia and Africa.