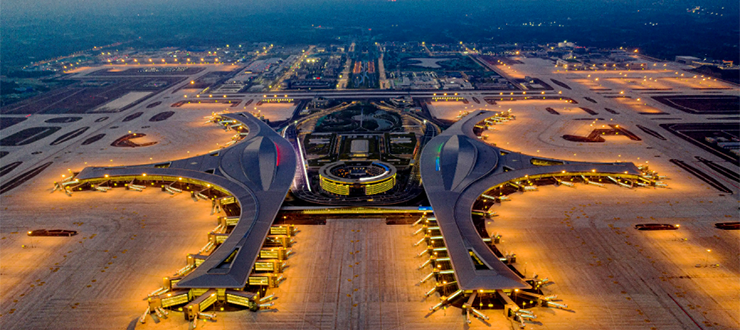 CHINA. On June 27, 2022, Chengdu Tianfu International Airport (Tianfu Airport) celebrated its "first birthday". After three flight planning seasons, the number of airlines operating at the airport has reached 32, and the average number of daily flights has increased significantly. ADB SAFEGATE has actively participated in the construction of Tianfu Airport, providing the Airfield Lighting Control and Monitoring System, more than 18,000 Light Monitor and Switch units and 98 Safedock Advanced Visual Docking Guidance Systems. (Image Source: Xinhua News Agency)
As the largest civil airport constructed during the 13th Five-Year Plan for Economic and Social Development of the People's Republic of China (13th Five-Year Plan), Tianfu Airport is an important milestone in the construction of the Chengdu-Chongqing World Class Airport Cluster. The official opening of Tianfu Airport makes Chengdu the second city in China, after Beijing, to own two 4F class airports. This is of great significance in the construction of a comprehensive transportation hub for western China and in benefiting the transportation interconnection within the Chengdu-Chongqing twin-city economic circle.
ADB SAFEGATE has actively participated in the construction of Tianfu Airport, providing the Airfield Lighting Control and Monitoring System (ALCMS), more than 18,000 Light Monitor and Switch units (LMS) and 98 Safedock Advanced Visual Docking Guidance Systems (A-VDGS).
By integrating the ALCMS with the airport's Advanced Surface Movement and Guidance Control System (A-SMGCS), the ALCMS can receive commands sent from the A-SMGCS and pass the on/off message to more than 18,000 lights equipped with LMS. With Individual Light Control and Monitoring System (ILCMS) capabilities integrated in the system, real-time monitoring and control of each light is achieved.

ALCMS HMI and routing & guidance interface at Tianfu Airport
With real-time control of all airfield lighting equipped with LMS and integration with the Safedock A-VDGS at every gate, ADB SAFEGATE has prepared Tianfu Airport for A-SMGCS Level IV. Once the air traffic control department supports A-SMGCS Level IV (and above), "Follow the Greens" guidance can be realized for all the flights to further improve operational efficiency and safety and reduce energy consumption.
During the construction of the airport, from supply to installation and commissioning, the ADB SAFEGATE team was challenged with a tight schedule, heavy workload, complicated workflow, and tough construction and commissioning tasks. Although it was often a race against time, the installation, commissioning and joint testing of all equipment was completed in less than six months, ensuring the smooth delivery of the overall project.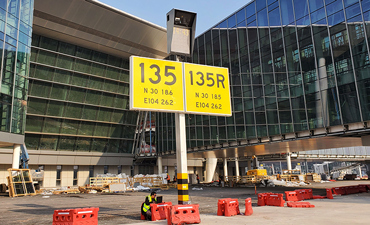 Engineers on-site commissioning during the construction of Tianfu Airport
Over the past 365 days and nights, led by Tianfu Airport, ADB SAFEGATE and 32 airlines have been working hand in hand for improved operations. Behind the scenes, ADB SAFEGATE's on-site engineers have consistently provided technical support and service to the airport operation department, which has been highly recognized and praised by the airport. The substation manager of Tianfu Airport commented, "With its reliable equipment and professional services, ADB SAFEGATE has ensured the stable operation of the ALCMS and ILCMS at Tianfu Airport for the past year, and we hope that ADB SAFEGATE will continue to work with us in the future to explore the potential of the system, promote the intelligent development of the airport and guarantee the continuous construction of the Four Characteristic Airport".
Remark: As quoted from the Outline of Action for the Construction of China's Civil Aviation (2020-2035), a Four Characteristic Airport is "safe, green, smart and humanistic".
As a global leader in airfield ground lighting and system solutions, ADB SAFEGATE's professional and technically competent team has been devoted to the construction and operation of Tianfu Airport. As reflected in our core values, ADB SAFEGATE is "Driven by Customers", and in the future we will continue to lead our industry in technology development to help Tianfu Airport realize its vision of being a world-class aviation hub.
ADB SAFEGATE provides integrated solutions that raise efficiency, improve safety, boost environmental sustainability and reduce operational costs for airports, airlines and ANSPs. The company works with airports and airlines to solve operational bottlenecks, helping them navigate today's challenges and prepare for tomorrow. Solutions encompass airfield lighting, power and control systems, smart airport and tower software solutions, intelligent docking automation and aftermarket services. With more than 1,200 employees, ADB SAFEGATE serves more than 2,500 airports in more than 175 countries, from the busiest and largest like Atlanta, Beijing, Dubai, Heathrow, Charles De Gaulle, Frankfurt, Istanbul, New Delhi and Changi to fast-growing airports across Asia and Africa.