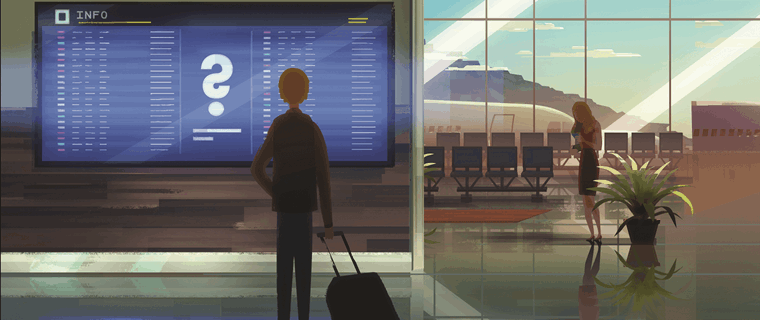 AIRPORT CHALLENGES. Airport congestion, and thus limited resilience, is an everyday situation at major airports around the world, causing difficulties regardless of the weather. Delay brings not only inconvenience to passengers, but also costs to airports, airlines, society and the environment. The capacity crunch affects the workload of air traffic controllers, leading to increased risk of human error, which may decrease throughput and safety in general.
Airport infrastructure not used in the most efficient way
Airports structured in "stakeholder silos" with gate, airfield and tower operating independently, often face difficulties in gaining an overview of the complete sequence from approach to departure. Gaps between systems and stakeholders are also created. Quite often, existing infrastructure is not used in the most efficient way and often prevents airport operations from reaching full capacity.
Airports constantly need to explore how to capitalize on the opportunities while managing capacity and growth. The questions airports need to answer are many: How to handle growth? How to boost profits and control costs? How to comply with the latest regulations? How to operate more sustainably? How to enhance safety?
In the end it all comes down to:
How to accommodate air traffic growth in the most
efficient yet safe and sustainable way?
Operational data is not used effectively
Airport systems today already create huge amounts of data during their daily operations, which is typically held in the existing Airport Operational Database (AODB). It would be easy to think that tapping into this data repository and analysing its contents for better airport-wide resource planning would be straightforward. However, most AODBs deployed today are not compatible with modern cloud-based systems. They provide a static picture and offer limited opportunities to meet the ever-changing needs of the dynamic airport environment, with all its complexities and fluctuating conditions driven by unexpected flight delays and sudden weather changes. This can impact operational cost and efficiency, on-time performance and passenger experience.
Unlock the hidden potential for airport traffic expansion
While infrastructure or runway expansion may seem like an ideal solution to bottlenecks, at ADB SAFEGATE, we believe the answer lies elsewhere. Airports can do more with what they already have and we can help unlock the hidden potential for airport traffic expansion.
There are ways to expand efficiency rather than expanding infrastructure.Our approach is to use a holistic view on airport operations to increase throughput.
ADB SAFEGATE is a leading provider of intelligent solutions that deliver superior airport performance from approach to departure. The company partners with airports and airlines to analyze their current setup and operations, identify bottlenecks, and jointly solve them using a consultative approach that enables airports to improve efficiency, enhance safety and environmental sustainability, and reduce operational costs. Our integrated portfolio includes solutions and services that harmonize airport performance, tackling every aspect of traffic handling and guidance, from approach, runway and taxiway lighting, to tower-based traffic control systems, and intelligent gate and docking automation. ADB SAFEGATE has more than 900 employees in more than 20 countries and operates in more than 175 countries, serving more than 2,500 airports.