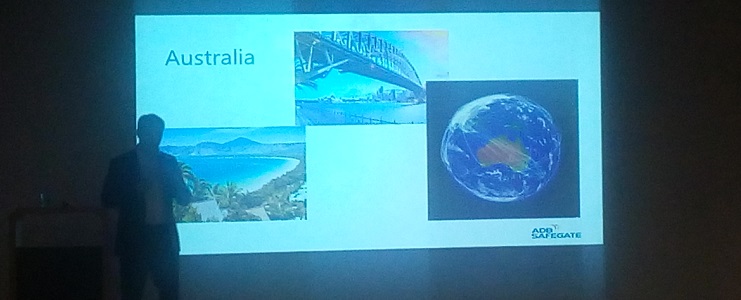 Did you know that international passenger traffic in Latin America grew at a higher rate than the world's average last year? When Guarulhos International Airport (GRU) in São Paulo hosted an ICAO A-CDM Implementation Workshop and Seminar, ADB SAFEGATE's A-CDM expert, Stephen O'Flynn was there to present on the subject key to deal with growth, performance matters and potential capacity constraints.
International Schedule Passenger Traffic grew at a rate higher than the world's average last year, accordingly to ICAO. While the growth off course creates opportunities, it also brings the challenge to grow traffic in a cost-efficient, safe and environment-friendly way. Airport congestion is another existing challenge and the lack of airport capacity is widespread across the region. According to the World Economic Forum, in fact, only two economies, Panama and Barbados, rank among the top 35 countries for the quality of their air transport infrastructure.
Airport collaborative decision-making (A-CDM) is a process that provides a concrete response to the problem of congested airports. It helps improve operational efficiency, predictability and to reduce delays. In recent years, it has become a key process supported by CANSO, the International Civil Aviation Organization (ICAO), Airports Council International (ACI), and the International Air Transport Association (IATA).
When the second ICAO A-CDM Implementation Workshop/Seminar that was held at Guarulhos International Airport (GRU) in São Paulo on October 19-21, ADB SAFEGATE in Latin America had the pleasure to participate and be an event sponsor.
Stephen O´Flynn, who was presenting on behalf of ADB SAFEGATE and who is an authority on A-CDM, shared his experience in regards to measured efficiencies on implementations worldwide. He highlighted the positive environmental effects and increased throughput provided, at airports in various stages of implementing A-CDM. Stephen also presented recent discoveries on how integration of current technologies covering gate management and ATC traffic management solutions with concepts such as "Follow The Greens" (FTG) and Routing and Guidance will maximize the benefits of implementing the A-CDM concept for all stakeholders.
Satisfied with the event, Niclas Svedberg, Business Development Manager at ADB SAFEGATE in Brazil, noted: "We were pleased to see the engagement shown by airports, regulatory agencies and suppliers in what was truly a collaborative event, very much in-line with the cooperative idea behind A-CDM".
ADB SAFEGATE is a leading provider of intelligent solutions that deliver superior airport performance from approach to departure. The company partners with airports and airlines to analyze their current setup and operations, identify bottlenecks, and jointly solve them using a consultative approach that enables airports to improve efficiency, enhance safety and environmental sustainability, and reduce operational costs. Our integrated portfolio includes solutions and services that harmonize airport performance, tackling every aspect of traffic handling and guidance, from approach, runway and taxiway lighting, to tower-based traffic control systems, and intelligent gate and docking automation. ADB SAFEGATE has more than 900 employees in more than 20 countries and operates in more than 175 countries, serving more than 2,000 airports. 
Every year a