UPDATE. In a two-part article series, ADB SAFEGATE's global ATM advisor, Stephen O'Flynn, explains Follow the Greens. In this first article, Stephen gives us the current state of the Follow the Greens validation and shares some results from the Fraport report. In his next article, Stephen discusses why airports need to develop a roadmap for Follow the Greens.
What is follow the greens?
Follow the Greens (FTG) is a term that has been used in the airport domain for some time, however it has gained momentum through recent activities within the Single European Sky Air Traffic Management Research Program (SESAR1 and SESAR2020), in which research and development analysis is being performed. However, the concept is not limited by the scope in these studies and has been around for some years already. For example, airports like London Heathrow and Singapore's Changi Airport, manually manage the green lit centrelines displayed for taxiing aircraft during night and reduced visibility conditions.
Generally, the concept is explained by its name, in that the green runway exit, taxiway centreline and stand lead in-out lights (where available) are displayed for the flight crew to follow to their destination (gate or runway). Also, where present, an Advanced Visual Guidance Docking System (A-VGDS) could seamlessly ensure the aircraft docks safely. However, there are several variations that have developed, ranging from basic versions to more advanced versions, including those that work within current ICAO procedures, to those suggesting new procedures.
All FTG concept variations share a common 'routing' or 'surface manager' feature, as the lighting system requires knowledge of each aircraft's surface route to be able to light the way. The routing capability varies from manual systems (i.e. the human creates and activates the route), to fully automated ones (i.e. system automation with the human in the loop).
Other enablers are required to achieve higher levels of automation, such as surveillance systems, advanced human machine interfaces, electronic strips, advanced visual docking guidance systems integration, and more.
Airports have a range of options to choose from regarding the FTG concept. These all allow for a steady roadmap to be developed, and enable work towards achieving growth in the capabilities of the concept over time, which will help increase the benefits and manage risks. This article-series will propose a global roadmap, but first it is pertinent to explain some of the key benefits that are achievable.
Current state of FTG validation and implementation
Basic (manual) and various automated versions of the FTG concept, where current ICAO procedures are applied, are already deployed at various airports worldwide. Deployment is expected to continue.
Advanced FTG concepts, employing new ICAO procedures, are currently under validation within SESAR research and development activities. Several key enablers have recently been moved to the deployment stage (such as the surface manager and departure manager functions described in the European Regulation EC716/2014 PCP). Eurocontrol has commenced a revision of their A-SMGCS Manual to incorporate current FTG concepts which will result the abandonment of the legacy "A-SMGCS Levels 1 to 4" (ICAO has 5 levels described in Doc 9830), in favour of a more functional view of the services that can be provided by A-SMGCS. Particularly important in this update will be the addition of the Surface Manager function which is described in the European Deployment Plan under ATM Function 2 Sub function 2.4. Additionally, the EUROCAE WG41 has also commenced its technical standards updates in coordination with the Task Force.
The SEAC consortium has conducted two key validation experiments at Frankfurt Airport (2013) and Munich Airport (2015), each of which tested different aspects of the concept. The results of both studies are extremely positive to safety, efficiency and environmental indicators. In addition, a trial was performed in 2015 at Riga Airport Latvia which was positive on the automatic switching of the Airfield Lighting.
Key results
The validations have shown that taxi time can be reduced by approximately 10%-30% depending on visibility conditions. The more complex operational conditions there are the more impact the system support had on the potential savings of taxi time and fuel burn.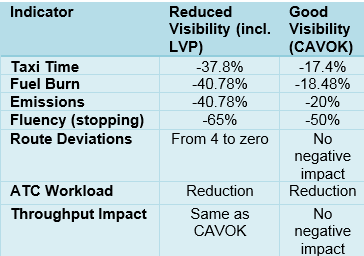 ICAO safety data shows in 2015 that there were 36 runway safety related accidents globally. Across each ICAO region, there are on average two reported runway incursions every day. In the European region for example an average of six of these incursions per month are classified as serious Class A or B occurrences. Route deviations and confusion account for a large proportion of errors.  These deviations may also expose a risk of aircraft damage through collision with other aircraft on the taxiways or fixed obstacles (e.g. wing tip clearances). FTG studies have shown that Flight Crew induced route deviations were eliminated when using direct guidance by airfield lights (AFL).
Apart from the obvious runway hazards, taxiway and apron area hazards exist also. In December 2014, two aircraft collided at Stockholm Arlanda airport due to a route deviation by one of the aircraft. Costly aircraft damage during taxiing is still occurring globally as recently as Mumbai Airport (November 2016), Hobart Airport Australia (December 2016), Oakland Airport (August 2015).
The SEAC study showed that Flight Crew induced route deviations were eliminated when using direct guidance by airfield lights (AFL). Even where collision risks do not result, the most common effects of route deviations are increased workload for ATC, increase radio frequency usage and longer taxi times due to unpredicted movements, adding an unnecessary inefficiency of the aerodrome.
Originally published July 2015 and was updated January 2017.
Part 2: "Why develop a roadmap for Follow the Greens"
ADB SAFEGATE is a leading provider of intelligent solutions that deliver superior airport performance from approach to departure. The company partners with airports and airlines to analyze their current setup and operations, identify bottlenecks, and jointly solve them using a consultative approach that enables airports to improve efficiency, enhance safety and environmental sustainability, and reduce operational costs. Our integrated portfolio includes solutions and services that harmonize airport performance, tackling every aspect of traffic handling and guidance, from approach, runway and taxiway lighting, to tower-based traffic control systems, and intelligent gate and docking automation. ADB SAFEGATE has more than 900 employees in more than 20 countries and operates in more than 175 countries, serving more than 2,000 airports