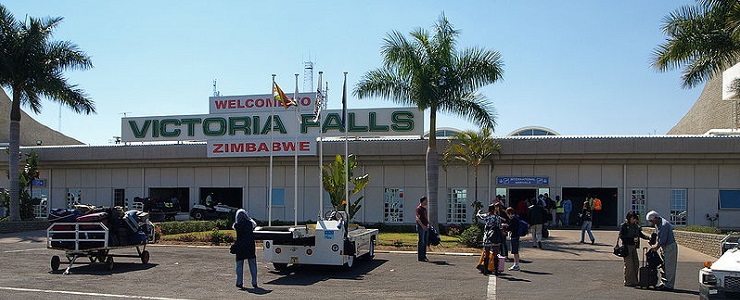 The recently-commissioned Victoria Falls International Airport is among the three primary airports in Southern Africa that connects air travelers to Victoria Falls, one of the Seven Natural Wonders of the World. The airport chose ADB SAFEGATE for its expertise in airfield lighting turnkey projects to upgrade to a CAT II airfield, which can support long haul flights in all-weather conditions. The airport can now land larger international aircraft such as the Boeing 747 and Airbus A330 and weekly passenger arrivals are forecast to rise by 40 percent.

When Victoria Falls Airport decided to upgrade its airfield infrastructure by constructing a 4,000-meter runway and a new international terminal, the airport authorities were looking for a partner with global expertise, a long-presence in Africa, the right product portfolio and the flexibility to adapt solutions if needed. After all, the main objective of this project was to support international tourist traffic to Victoria Falls, one of the region's biggest tourist attractions. A number of African and international airlines have expressed interest and are in the process of introducing flights to the airport. This enhanced accessibility and connectivity will boost tourism.
A Category II (CAT II) airport was naturally a prerequisite. CAT II airfields support landing and take-off of larger international aircraft used in long-haul flights by most airline operators globally. Moreover, they come with the added assurance of improved safety as CAT II airfields can support landing of aircraft in poor weather and low visibility conditions caused by heavy rain and fog.
ADB SAFEGATE worked closely with the main contractor for this project to understand the airport's requirements and recommended a complete, integrated solution that comprises a CAT II Airfield Ground Lighting AGL system, CAT II Navigational Aids (NAV), Meteorological (MET) equipment, substations for power distribution and back-up power and complete tower equipment which integrates all the various systems. ADB SAFEGATE was also given the contract to perform all the flight calibrations on the Nav-Aids.
The ADB SAFEGATE team in South Africa which has delivered large-scale projects in the continent, and has impressive references, won over the airport authority by proposing a complete solution which draws on the various market leaders world-wide as system suppliers. The LED flood lights were from ewo Italy, and all AGL components were from ADB SAFEGATE's factories in China and Brussels. With this, ADB SAFEGATE adds yet another reference to its growing AGL turnkey portfolio, by taking on its first turnkey project at Victoria Falls Airport. The scope included the supply, installation and commissioning of the solution proposed by ADB SAFEGATE.
The CAT II AGL system includes, among other equipment, a 900m CAT II approach stretching over a scenic valley, runway, taxiway and apron edge lighting, PAPI systems, AGL control system, wind cones, information signs, rotating beacon, and apron floodlights. ADB SAFEGATE also supplied obstacle lighting on the tower and equipment, and fiber optic connectivity to enable all systems to communicate with the technical and ATC positions in the new tower complex.
ADB SAFEGATE delivered CAT II NAV equipment comprising an Instrument Landing System (ILS), Glide Slope, Doppler VHF Omnidirectional Range (DVOR) and Distance Measuring Equipment (DME) for use during low visibility approaches to Runway 12. Legacy VHF Direction Finding (VDF) was also delivered to ensure that small aircraft operators receive navigational assistance from the Victoria Falls Tower.
The CAT II MET equipment includes sensors to measure variables essential to aviation safety – wind, pressure, humidity and temperature, visibility, Runway Visual Range (RVR), a rain gauge to measure precipitation levels, and a ceilometer to measure cloud base. This information allows a more accurate assessment for pilots as to whether Visual or Instrument Flight Rules (VFR/ IFR) for take-off or landing and ensures that all air traffic movements are conducted according to the legal ICAO standards.
Another key element of the project was the supply and installation of the complete ATC equipment – AGL monitoring and control, consoles and chairs, displays for Navigational Aids and meteorological information status, related communications, flight strip software and printer, master UTC clock system and access control system.
ADB SAFEGATE also supplied and installed two containerized sub-stations with Mini-substation, Generator, UPS, CCRs, associated switchgear, cabling, lighting, switch and socket outlets.
The two-year construction project included all civil works related to AGL and MET equipment, requisite alarm systems (fire/ anti-intrusion/ temperature control) and air conditioning for the power and NAV equipment, power backup, earthing, cabling and manufacturer recommended spares where required, as well as two years warranty and maintenance services.
Our rich experience and reputation as a long-standing reliable supplier to other airports in the African continent, was vital in gaining customer trust. Zimbabwe will now be able to truly leverage the tourism potential at Victoria Falls, with the new upcoming airport, says Christian Onselaere, CEO, ADB SAFEGATE. What's also worth noting is that ADB SAFEGATE has now become the partner of choice for AGL turnkey projects at all airports that provide connectivity to Victoria Falls – the others being Zambia's Livingstone Airport and Botswana's Kasane airport.
ADB SAFEGATE is a leading provider of intelligent solutions that deliver superior airport performance from approach to departure. The company partners with airports and airlines to analyze their current setup and operations, identify bottlenecks, and jointly solve them using a consultative approach that enables airports to improve efficiency, enhance safety and environmental sustainability, and reduce operational costs. Our integrated portfolio includes solutions and services that harmonize airport performance, tackling every aspect of traffic handling and guidance, from approach, runway and taxiway lighting, to tower-based traffic control systems, and intelligent gate and docking automation. ADB SAFEGATE has more than 900 employees in more than 20 countries and operates in more than 175 countries, serving more than 2,500 airports.