VIRTUAL EVENT. Are you interested to find out more about digital opportunities and key initiatives for future growth in APAC? Join the Frost & Sullivan arranged webinar on August 23 where ADB SAFEGATE´s Rachit Arun Mehrotra participates as expert panelist in a discussion about the way forward for airport digitization in APAC.
With digital transformation and new technologies already disrupting multiple industries, organizations must innovate for the future to create value and drive better business outcomes. On Tuesday, August 23, Frost & Sullivan is virtually arranging "APAC Outlook: Digital Opportunities & Key Innovations for Future Growth".  
The webinar will include a 40-minute panel discussion at 11:45-12:25 (SGT), about the changing smart airport landscape in APAC.  ADB SAFEGATE´s Rachit Arun Mehrotra will be one of the expert panelists and thought leaders in this session about the way forward for airport digitization in APAC.
The discussion will revolve around the key topics below:
Industry challenges and issues
Views on VTL and additional destination pairs on the horizon
Adoption of digitization among passengers
Modified passenger journey and its impact on operations
Views and development of remote check-in
Development of digital infrastructure for aviation
Key initiatives and way forward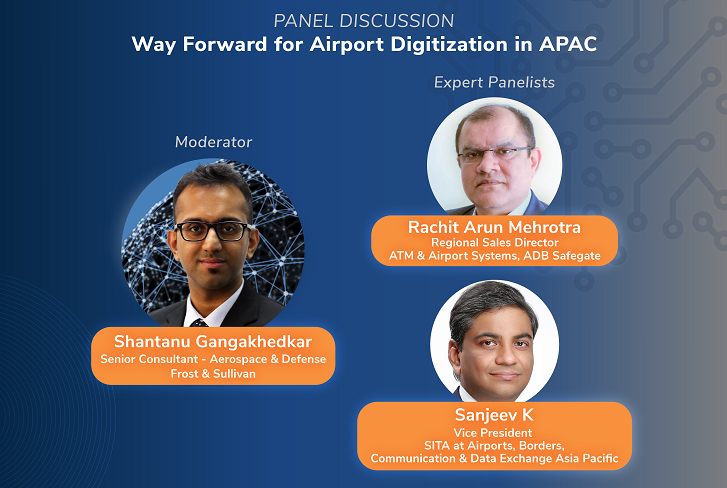 ADB SAFEGATE provides integrated solutions that raise efficiency, improve safety, boost environmental sustainability and reduce operational costs for airports, airlines and ANSPs. The company works with airports and airlines to solve operational bottlenecks, helping them navigate today's challenges and prepare for tomorrow. Solutions encompass airfield lighting, power and control systems, smart airport and tower software solutions, intelligent docking automation and aftermarket services. With more than 1,200 employees, ADB SAFEGATE serves more than 2,500 airports in more than 175 countries, from the busiest and largest like Atlanta, Beijing, Dubai, Heathrow, Charles De Gaulle, Frankfurt, Istanbul, New Delhi and Changi to fast-growing airports across Asia and Africa.