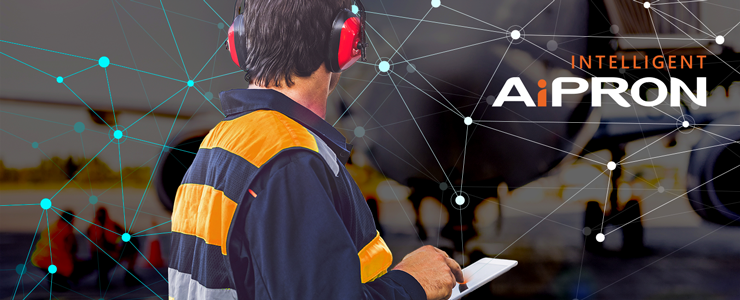 In the latest issue of Airports International Magazine, our Ilya Burkin tells Editor, Tara Craig, why airport digitalisation is paramount and how ADB SAFEGATE intends to deliver it. ADB SAFEGATE's Intelligent AiPRON is designed to deliver better predictability of operations and brings the elasticity required to ensure consistency in safety, productivity, efficiency and the passenger experience.
Published by Airports International Magazine, Issue 1 2023. If you are a subscriber, or wish to subscribe, you can view the full issue and article here.
Read highlights below:
Why is the digital transformation of airports so important?
As in many industries, digital transformation is considered a fourth industrial revolution. Airports are integrating new technologies into their operations, including the Internet of Things (IoT), cloud computing and analytics, as well as artificial intelligence (AI) and machine learning. All of these innovations lead to improved efficiency, safety and, above all, environmental and economical sustainability.
However, even higher value is created when the information from airport operations is integrated with operational data from airlines, air traffic control (ATC) and ground handlers to create whole new levels of visibility and insight not previously possible. ADB SAFEGATE's 75 years of aviation experience has equipped us to champion Airside 4.0 innovations driven by advanced sensors, embedded software and AI, which collect and analyse data, allowing for better decision-making.
What is 'operational elasticity'and how can you deliver it?
Airside operational elasticity is vital to maintaining consistent high levels of safety, productivity, efficiency and passenger experience despite the conditions or volatility of traffic. Apron systems and processes must be adaptable, flexible and resilient, to scale up or down to meet changing demand. ADB SAFEGATE applies the latest surveillance and automation technology to manage the most complex operational challenges.
Our Safedock advanced visual docking guidance system (A-VDGS) which is the first and last contact for an aircraft on the apron, starting with the docking of an inbound aircraft and ending with pushback during departure, is a vital piece of this puzzle. When it was first deployed, safety was the primary driver. Next came operational efficiency, facilitating the more productive utilisation of real estate and assets. Scalability followed, taking capacity management to the next level. The pandemic has added elasticity to this list of key requirement drivers. Multidimensional, it responds to hard-topredict volatility and staffing concerns, making it the key to recovery.
What are the different elements of Intelligent AiPRON?
Intelligent AiPRON is a new suite of solutions from ADB SAFEGATE that was developed to meet the needs of the market in the post-pandemic era, focusing on airports' long-term growth plans. The platform is founded on the concept of Augmented Intelligence, a subsection of AI machine learning that enhances human intelligence rather than operating independently or replacing it. Augmented Intelligence is designed to assist and improve the quality of human decisionmaking, made possible by the availability of better, more thorough analysis of information and data collected. It is not good enough to simply tell the user there is a problem that is going to arise. Instead, Intelligent AiPRON constantly analyses incoming data and creates recommendations on how to improve the turnaround process or mitigate any foreseeable issues to stay on top of on-time performance.
How can Intelligent AiPRON help drive sustainable aviation?
Apart from designing products and systems which are more sustainable, ADB SAFEGATE also integrates solutions across the airfield, apron, tower and terminal to improve operational efficiency and turnaround time, reduce wasteful fuel burn and thus lower carbon emissions. Intelligent AiPRON helps airports minimise taxiing time by speeding up turnaround times and driving the efficient use of ground service equipment, leading to less time burning fuel.
What elements of the Intelligent AiPRON system will ensure it is futureproofed?
Information technologies develop very quickly in any industry and aviation is no different. The global pandemic accelerated many trends, such as contactless journeys and improved passenger experience. However, airports have now turned their attention to the apron as the most important focus, where three flows meet: passengers, aircraft and baggage.
Intelligent AiPRON is an innovative answer to market needs, combining time-tested solutions such as our Safedock A-VDGS with new technologies like IoT and AI, giving airports a holistic way of managing airside operations. Being agnostic towards integration and using new technologies, Intelligent AiPRON gives airports the peace of mind of knowing that whatever comes tomorrow, ADB SAFEGATE will help them with solution updates, user trainings, consulting services and other challenges.
Learn more about Intelligent AiPRON.
ADB SAFEGATE provides integrated solutions that raise efficiency, improve safety, boost environmental sustainability and reduce operational costs for airports, airlines and ANSPs. The company works with airports and airlines to solve operational bottlenecks, helping them navigate today's challenges and prepare for tomorrow. Solutions encompass airfield lighting, power and control systems, smart airport and tower software solutions, docking automation and intelligent apron management, as well as aftermarket services. With more than 1,200 employees, ADB SAFEGATE serves more than 2,500 airports in more than 175 countries, from the busiest and largest like Atlanta, Beijing, Dubai, Heathrow, Charles De Gaulle, Frankfurt, Istanbul, New Delhi and Changi to fast-growing airports across Asia and Africa.