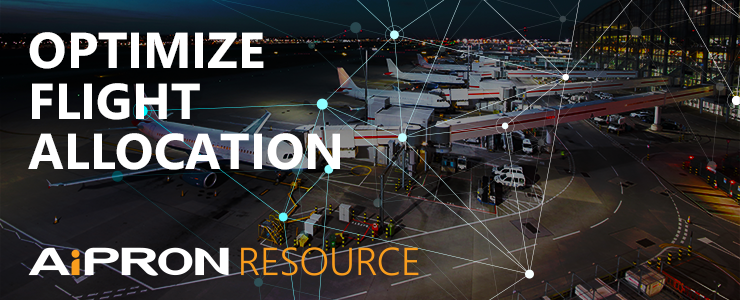 INNOVATION. ADB SAFEGATE's AiPRON Resource offers an innovative approach to resource management that utilizes machine learning technologies to analyze the operational environment and improve usage of expensive, high-demand airside resources accordingly.

All that airside planning and scheduling can pay off handsomely allowing one to imagine that the day's flight movements resemble a symphony orchestra. In reality, however, it is a constant battle to ensure stakeholders are attuned to making optimum use of resources in an effort to eliminate waste and deliver value.
Apron operations are challenging environments where multiple actors and processes with differing priorities converge to deliver a common goal – to operate flights safely, efficiently and on-time. And, it is no easy task to coordinate and deliver an effective resource management solution that can meet all of these objectives.
With this in mind, ADB SAFEGATE is proud to announce its latest resource management offer – AiPRON Resource – an innovative approach to resource management that contributes to smart, informed decision making to optimize the use of expensive and in-demand assets such as aircraft parking stands and gates.
AiPRON Resource is an AI-driven and KPI-focused solution that was developed in collaboration with experts from some of the world's busiest airports. What sets AiPRON Resource apart from traditional resource management systems, are its closed-loop optimization algorithms which utilize machine learning to analyze the operational environment in real-time and improve resource usage accordingly.
AiPRON Resource is part of ADB SAFEGATE's Intelligent AiPRON suite of software solutions bringing a holistic, intelligent and sustainable approach to apron management. The Intelligent AiPRON portfolio includes five add-on modules, AiPRON 360, AiPRON Manager, AiPRON Resource, AiPRON Connect and AiPRON Finance.
Visit us at Passenger Terminal Expo 2023 in Amsterdam, March 14-16, where live demonstrations of AiPRON Resource and the Intelligent AiPRON will be available in stand #1218. And don't miss the conference presentation on the advantages of an intelligent apron, with ADB SAFEGATE's Ilya Burkin and Pritpal Roopra, Assistant Vice President of Enterprise Systems, Dallas Fort Worth International Airport. You will find the Intelligent Apron presentation under the Management and Operations, Airside track, Day 1, March 14.
Explore our website to learn more or contact your local ADB SAFEGATE representative.
ADB SAFEGATE provides integrated solutions that raise efficiency, improve safety, boost environmental sustainability and reduce operational costs for airports, airlines and ANSPs. The company works with airports and airlines to solve operational bottlenecks, helping them navigate today's challenges and prepare for tomorrow. Solutions encompass airfield lighting, power and control systems, smart airport and tower software solutions, docking automation and intelligent apron management, as well as aftermarket services. With more than 1,200 employees, ADB SAFEGATE serves more than 2,500 airports in more than 175 countries, from the busiest and largest like Atlanta, Beijing, Dubai, Heathrow, Charles De Gaulle, Frankfurt, Istanbul, New Delhi and Changi to fast-growing airports across Asia and Africa.