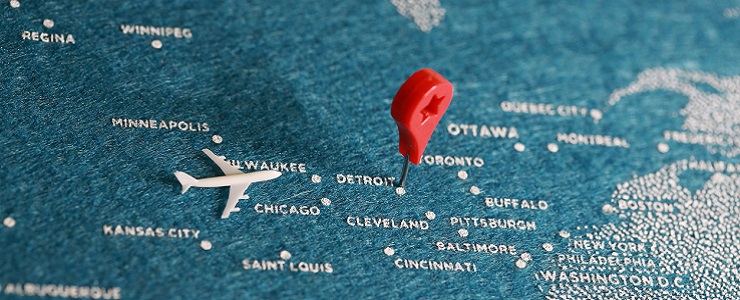 Since 2006, Detroit Metropolitan Wayne County Airport (DTW) has been incrementally transitioning its airfield lighting from incandescent to light emitting diode (LED) technology. Dave Garrett, the airport authority's electrical department manager, explains that the switch has several benefits, including energy savings, product longevity and—to a certain degree—reduced maintenance.

Jodi Richards from Airport Improvement Magazine interviews Dave Garrett, airport authority's electrical department manager at Detroit Metropolitan Wayne County Airport. 
With about 5,500 LED lights on taxiways alone, DTW has made a significant investment in the newer technology, says Garrett, a master electrician and 25-year airport employee. "We view this as mission-critical work that has an impact on all airport users," he remarks.
After crews finished installing LED taxiway lights in 2008, the conversion continued in 2013, with the installation of 245 LED centerline lights and 180 touchdown zone lights on Runway 4L-22R. Lighting was a small portion of the $137 million project to rebuild one of the airport's main arrivals runways.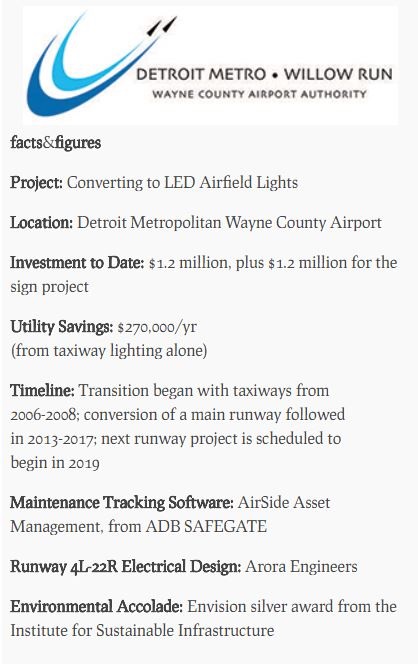 The 4L-22R and associated taxiway project, completed in 2016, received an Envision silver award from the Institute for Sustainable Infrastructure. Garrett notes that the 10,000-foot runway is now 100% LED, but that was just one element that contributed to the environmental sustainability accolade.
DTW's next major runway project is reconstruction of 3L-21R and its associated taxiways. Work is expected to begin next spring and be complete by winter 2020. As with previous projects, Garrett will coordinate the electrical needs and lighting conversion with the capital project planning team. His long-term goal is for DTW's entire airfield to be 100% LED.

Benefits
According to Garrett, LED taxiway lights save the airport about $270,000 per year in energy and maintenance costs—and that's a conservative estimate, he notes. Runway LEDs boost the total savings even higher.
Longevity is a primary economic factor. An incandescent taxiway bulb has an average lamp life of 1,000 hours, while LEDs are rated at 56,000 hours at full intensity. In practical airfield applications, incandescent lamps may last 4,000 hours, while LEDs will provide at least 100,000 hours, says Bill Weigel, regional sales manager with ADB SAFEGATE, noting that his LED estimates are very conservative.
LEDs can last 10 years without needing to be replaced, while airports usually need to replace incandescent lamps two times per year, Weigel adds. This decreases costs for labor and equipment. Depending on the type of fixture, LED bulbs can be 50% to 75% more energy efficient than incandescent lights,
he relates.
The longer lifespan of LEDs also means less need for maintenance vehicles on active areas of the airfield, Garrett adds. "We're not replacing lights as much as we did when we had incandescent."
Weigel says that consistently true color rendition is another significant benefit of LEDs. White incandescent bulbs, particularly when operated at lower intensity, can take on an amber glow that some pilots could misinterpret as nearing the end of a runway.
For some airports, long-term cost savings make LEDs the preferred choice despite their higher upfront price—the LED equivalent for a $100 incandescent can cost $200, says Garrett. Even with "acceptable casualties" that occur—especially during snow removal operations—the overall investment in LED more than pays for itself, he reports.
Successful Formula
Planning and communication are crucial to airfield lighting conversion projects, Garrett emphasizes. Coordinating the upgrades with capital improvement programs has proved to be a successful formula for DTW. "We're fortunate that they invite me to all of the planning meetings and we have significant input," Garrett notes. "Communicating and scheduling the needs of the airport electrical systems with the decision makers is huge."
In 2015, he approached senior management with a plan to update airfield signage with LED fixtures. That $100,000 project demonstrated the positive impact of the technology and turned into a $1.2 million investment over the following three years. "We were pleased that we had the support to get that done," Garrett reflects.
Throughout the program, in-house personnel updated 750 airfield signs and converted them from incandescent to LED. "We wanted to save energy; we wanted to reduce the amount of time we spent changing bulbs; and the structures themselves—the frames of the signs—were getting past their life expectancy," he explains.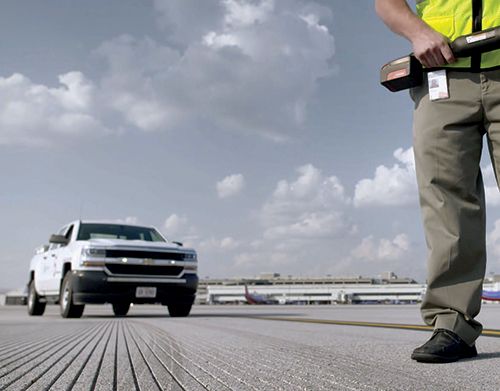 LED Maintenance
Garrett reports that many maintenance requirements are the same for incandescent, quartz and LED lights. The overall time spent changing bulbs, however, has been cut considerably since the transition to LED began. This frees up the electrical team for other critical work, he notes.
Inspecting lights is still an important part of DTW's airfield maintenance program, he emphasizes. Personnel routinely torque in-pavement lights, check lenses for pitting and look for casting damage after snow plows have cleared the pavement.
"You can't install LED fixtures and forget about them,"
Weigel agrees, noting the high value of a solid preventative maintenance plan.
Garrett describes the program DTW recently began as fairly aggressive. The airport authority invested in a new system to help Garrett and his team to track maintenance data—specifically, the torqueing of in-pavement lights. FAA materials note that the impact of aircraft wheels can loosen mounting bolts, causing misalignment or fixture damage, primarily in touchdown zones.
Traditionally, DTW personnel tracked maintenance data such as bolt torque statistics for inset runway lights with a computer-based work order system. They are now transitioning to a Wi-Fi-connected torque wrench that sends data to an iPad. The iPad transmits the torque values to the database via cellular connection to automatically link with ADB SAFEGATE's AirSide Asset Management software. Managers can download data and analyze it to better allocate personnel resources, notes Garrett. "When we look at the amount of inset fixtures that we have, the amount of hours that we're going to spend to meet the FAA's advisory circular, we feel we're going to be able to trend that data and put our folks where they're needed," he explains.
The new software program will also help Garrett and his team monitor the performance of airfield lights, schedule and assign maintenance tasks, and track the maintenance history and lifecycle costs for all airfield assets. The software can incorporate photometric measurement reports, track bolt torqueing for in-pavement fixtures and provide a complete view of maintenance history for each asset. The new solution, which uses GPS to precisely track asset location and automate the asset entry process, eliminates the need for expensive installation of RFID tags and scanners.
"Certainly LEDs have made maintenance more complex, but I'm fortunate that all of my employees are journeyman electricians with a high skill level," Garrett remarks. "We spend a lot of time and effort on training."
This article was written by Jodi Richards who is a regular contributor for Airport Improvement Magazine.  The original article was published in April 2018. Published on ADB SAFEGATE blog with permission from Airport Improvement."
ADB SAFEGATE is a leading provider of intelligent solutions that deliver superior airport performance from approach to departure. We partner with airports and airlines to analyze their current structures and operations, and jointly identify and solve bottlenecks. Our consultative approach enables airports to improve efficiency, enhance safety and environmental sustainability, as well as reduce operational costs. Our portfolio includes solutions and services that harmonize airport performance, tackling every aspect of traffic handling and guidance, from approach, runway and taxiway lighting, to tower-based traffic control systems and intelligent gate and docking automation.