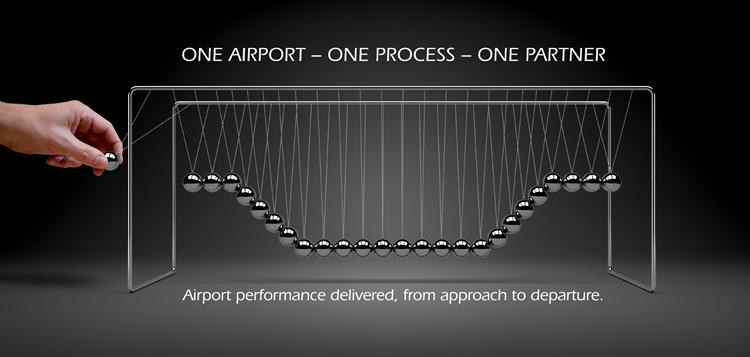 Today's Airports contain a complex network of stakeholders. Often these stakeholders have efficient management and communication strategies within their respective departments. However, inefficiencies that hamper productivity and performance can be created when these stakeholders interface with other departments and external organisations. If a holistic approach is to be implemented, a philosophy of  "One Airport – One Process" needs to be adopted.
Airports today are a collection of immense infrastructure with a vast array of systems and products that must work and interact in order to keep the airport operating efficiently 24/7 all year around. One Airport – One Process is the concept of viewing the airport as a whole; as one operational entity with many parts who are all tied together by the aircraft movements, from arrival to departure. By looking at the one operational process which interacts with all parts of your airport, they need to be fully efficient as an individual and work together to achieve optimal efficiency as a whole. To meet the One Airport – One Process framework, synergies that achieve common performance based objectives must be reached between the organisational structures, the procurement and ownership of systems services, and products. The relatively rapid growth and expansion of modern airports is increasingly leading to negative impacts on operational efficiency, lifecycle cost and environmental impacts that are extremely complex to resolve.
The all industry challenge of optimizing efficiency 
Other industries are constantly looking to gain maximum efficiency from their assets with Mechanical Machine Efficiency (MME) or similar, where all elements such as systems, infrastructure, procedures and personnel are included. In an MME concept inefficiencies not just within individual components but also across the whole output machine, are measured, analysed and rated. Losses of efficiency (non-optimized interfaces for example) are focused to bring the MME up to an industry standard or better. Adapting this MME approach, and accounting for less predictable factors such as humans, weather and safety aspects, to an airport environment could reveal a relatively low efficiency value. Most industries using MME as a measurement concept would consider current airport efficiency levels as concerning, particularly because there are many benefits to achieving high efficiency particularly where it involves improved use of current off the shelf technology without necessarily the need for novel concepts in operations. Closing this efficiency gap could considerably decrease inefficient airport expenditure as money and resources are allocated to improving processes rather than on more costly infrastructure. Higher efficiency could also translate into operational throughput benefits at the airport.
In order to achieve a higher efficiency (MME) and thereby achieve maximum throughput, thousands of data points are measured, logged and analysed. The results are used as input into the design and operation of each part of the machine in order to be as efficient as possible and at the same time be fully optimized with the rest of the machine.
The MME production line model can be compared to responsibility areas within the airport. As an example, the gate operations need to be efficient within itself, but also support other areas such as airfield and tower operations, to optimize the complete process. Traditionally at airports today, each stakeholder is relatively optimized (high MME). But when looking at the total "production line" the MME is low due to inefficient interaction and interfacing between the airport "modules". The reason for this can be found in isolated processes, systems and organisations.
Optimizing your MME may sound like a challenge, but there are many quick wins to be gained by sharing data and information beyond its traditional borders. Being creative and thinking outside the box can be seen as an old and over-used platitude, but it's still very relevant when reaching for a higher level of performance at airports today. The overall objective of an airport is to safely achieve the highest possible throughput and therefore, revenue. All systems and functions available at the airport are there to support safe operations with high throughput.
Holistic view and common set of objectives to improve throughput 
Many systems in place at today's airports are capable of logging data and information about its operations. It is quite rare that this is done in a way where logged data/information can be utilized by an external department. They are most often operated within their traditional requirement and usage silo where just a few stakeholders are addressed; hence the data is closed and beyond other stakeholders reach.
Integration of systems and services, with a lateral functionality that crosses the airport technical and operational silos, would create a cross-silo operational tool. This would enable the sharing of relevant data and display information that supports on-time operational decision making. This tool would also enhance situational awareness in real time and allow airport operational challenges to be analysed from a more holistic point of view. Holistic analysis can identify bottlenecks, inefficiencies, areas of safety concern and failures in the process, and alert stakeholders in advance when new resources need to be deployed or released.
Initiatives that have already begun, such as Airport Collaborative Decision Making (A-CDM) and the European Preliminary Deployment Program (PDP) from SESAR, are addressing the fact that individual airport stakeholders and systems need to work together and that further integration is necessary. This integration covers cooperation and communication between people, systems and procedures where requirements, constraints and outputs are synchronised towards achieving a common set of objectives. The A-CDM initiative is a good example of integration, where the design manages to zoom out to look at the complete operational picture in the network and airports.
Operational situation to be considered already in the design phase
It can be foreseen that more and more integration may increase the level of complexity from a system point of view. If integration is done in an incorrect or inefficient way this may be directly reflected in the operational support given to the users, and may result in an increase in workload. Therefore, the user's operational situation, including procedures, must be considered in the design phase. The system should be designed in a way where it automatically takes care of the tasks that don't need to be managed by the controller.
Examples of already existing systems that can be utilized to improve operational performance include the airfield lighting ILCMS (Individual Light Control & Monitoring System) and the A-VDGS (Advanced-Visual Docking Guidance System) at the gate. Both of which have great potential for being utilized for a higher level in the total operational concept at the airport. These systems are very common at airports worldwide and are available for integration with other operational systems.
Part 2: ONE AIRPORT – ONE PROCESS: ATCO PREDICTABILITY AND AWARENESS IMPROVED BY ACTIVE AND VISUAL FLIGHT CREW GUIDANCE
Fredrik Johansson
Airport performance – Product Manager
Phone: +46 (0)40 699 17 00
Email: marketing@adbsafegate.com
To read the complete report:
"One Airport – One Process: Viewing the airport as a whole to maximize efficiency" was originally published in Airport Technology´s latest Special Report; "Next Generation Integrated Solutions for Improving Modern Airport Operations".  The report is the only report being produced for Airport Operators in 2015 that is 100% focused on integrated solutions for improving airport operations and aims to provide the readers with the facts, figures, data, analysis and opinions needed to make informed decisions.
 ADB SAFEGATE is a leading provider of intelligent solutions that deliver superior airport performance and operations, and jointly identify and solve bottlenecks. Our consultative approach enables airports to improve efficiency, enhance safety and environmental sustainability, as well as reduce operational costs. Our portfolio includes solutions and services that harmonize airport performance, tackling every aspect of traffic handling and guidance, from approach, runway and taxiway lighting, to tower-based traffic control systems and intelligent gate and docking automation. ADB SAFEGATE has 900+ employees in more than 20 countries and serves some 2,000+ airports in more than 175 countries.