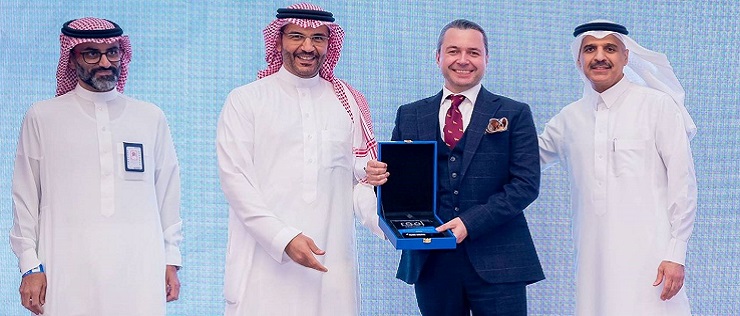 CHAMPIONS AWARD. Riyadh Airports and ADB SAFEGATE have enjoyed more than 39 years of productive partnership and collaboration and at ADB SAFEGATE we are very proud to now have received a Champions Award by Riyadh Airports Company for collaborative efforts towards the launch of the new airport management platform (OFOQ).

ADB SAFEGATE has proudly received a Champions Award by Riyadh Airports Company (RAC) for collaborative efforts towards the successful launch of the new airport management platform (OFOQ), an advanced digital platform to manage operations at King Khalid International Airport (KKIA).
OFOQ acts as a central database for all operational information generated by the airport's various data sources, it will allow RAC to take full control of all operations across its facilities, also enabling proactive and data-driven decision-making measures, helping to improve planning processes and disruption management.
Ilya Burkin, ADB SAFEGATE Airport System´s Global Sales Director attended the gathering to receive the award from Riyadh Airport´s General Manager of ICT division Mohammed Alshammari, Dr. Ghazi Al-Rawi, Chairman of Riyadh Airports Board of Directors and CEO of Riyadh Airports Eng. Mohammed bin Abdullah Al-Maghlouth.
The launch of the OFOQ comes as part of RAC's digital transformation efforts in line with the broader objectives of the Kingdom of Saudi Arabia to become a global leader of the digital economy.
ADB SAFEGATE is a leading provider of intelligent solutions that deliver superior airport performance from approach to departure. The company partners with airports and airlines to analyze their current setup and operations, identify bottlenecks, and jointly solve them using a consultative approach that enables airports to improve efficiency, enhance safety and environmental sustainability, and reduce operational costs. Our integrated portfolio includes solutions and services that harmonize airport performance, tackling every aspect of traffic handling and guidance, from approach, runway and taxiway lighting, to tower-based traffic control systems, and intelligent gate and docking automation. ADB SAFEGATE has more than 1200 employees in more than 20 countries and operates in more than 175 countries, serving more than 2,500 airports.