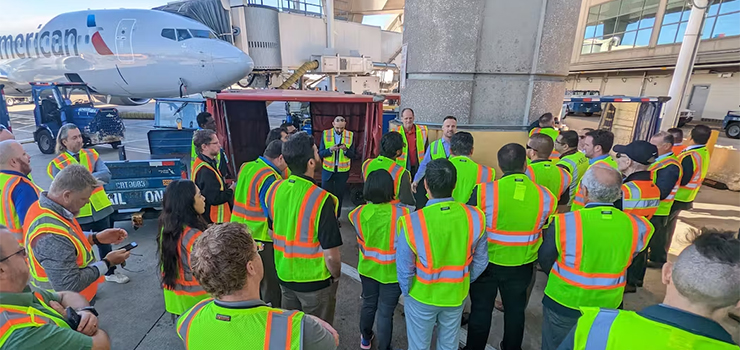 A recent trial at Dallas Fort Worth International Airport proves digitization of ramp operations can enhance operations and improve turnaround time of aircraft. The Intelligent Apron trial was conducted by the AAAE Airport Consortium on Consumer Trust (ACT) together with stakeholders from ADB SAFEGATE, Synaptic Aviation, DFW and American Airlines. Read about the proof of concept in a special Airside Report from Airport Business Magazine.
Originally published by Airport Business Magazine. Read the full article here.
Digitized apron operations are ready to take a big leap forward in North America as the technology has proven itself effective in operation at Dallas Fort Worth International Airport (DFW).
The Intelligent Apron trial was conducted by the AAAE Airport Consortium on Consumer Trust (ACT) from September to November at Gate 9A DFW. The gate is used exclusively by American Airlines, providing a feasible test location between the parties. Stakeholders included ADB SAFEGATE, Synaptic Aviation, DFW and American Airlines.
The connected gate concept is designed to reduce delays by ensuring ground crews are ready when arriving aircraft are nearing the airport. It provides information to stakeholders prior to the aircraft's arrival at the gate and real-time information on how soon they must prepare the apron for arrival.
"This initiative has huge value in the current airport conditions because it can leverage existing assets," Carlye Airport Group Chief Strategy Officer Ginger Evans said. "It makes better use of those existing assets and it supports a more efficient and safe ramp operation with fewer employees."
ADB SAFEGATE deployed a Safedock FleX advanced visual docking guidance system (A-VDGS) on A9 as well as a shadow SAM system (AiPRON Manager) in AWS. This allowed for collection of real-time operational performance data without affecting operational systems other than overnight replacement of the physical docking system.
The A-VDGS offers a color display and separate scanning unit with wider scanning area. The display itself is more brilliant and multicolored, so it can be read from wide angles and from longer distances with much more granular detail. It utilizes a laser with a wider scanning angle that scans at rapid speeds to provide pilots are clearer view of what's occurring right in front of the aircraft.
This creates high visibility of information for ground crews and pilots, while artificial intelligence captures operational timestamps to build benchmarks to turn around aircraft. Video AI is connected to the passenger boarding bridge to monitor parking and movement of the unit to ensure safety and time to connect to an aircraft. It also measures ground power unit (GPU) and pre-conditioned air (PCA) connections to the aircraft to monitor the time and length of connection by ground handlers.
You've got, the airlines stakeholders, the ground handler stakeholders, the airports, the FAA and everybody else who operates out there are stakeholders," Tom Duffy, Group Business Development Advisor for ADB SAFEGATE said. "The main thing is being able to gather information in real time and connect those pieces of information together so they all get the flow of events and what's happening on the apron."
During the trial and demonstration, the predictive functions of the Video AI were used to determine an on-time departure based on detected activities. The real-time view of the gate analytics presented a predicted departure time calculated by an AI model trained from several thousand departures.
The DFW trial brought together computer analytics, artificial intelligence and computer vision and worked all three technologies together to build a complete picture of what's taking place on the apron.
Juan Gomez, CEO of Synaptic Aviation, said computer vision allows the computer to see and identify certain elements on the apron. Artificial intelligence teaches the computer vision what it's seeing and continue learning as operations proceed daily.
"Think of eyes and the brain. The eye is just a lens to the brain and the brain is interpreting what it's seeing," he said.
The DFW trial brings previously untracked elements into reality for airport operations. The technology allows operations staff to track how long it takes for a passenger boarding bridge to connect to an aircraft at the gate. The data allows staff to see a baseline average on how long it takes for a bridge to connect to an aircraft and if there's a spike in connection times, it could highlight either a mechanical failure or improperly trained employee.
"There's a lot of noise around the gate and on the apron," Gomez said. "By bringing these datapoints together, we can take away the noise and reflect how things are actually operating at the gate."
Read the full article to learn more about the technologies and the operational improvements realized during the proof of concept.
Download the full report from AAAE: AIRPORT DIGITIZATION: Demonstrating the feasibility of the Intelligent Apron
Learn more about ADB SAFEGATE's Intelligent AiPRON solutions.