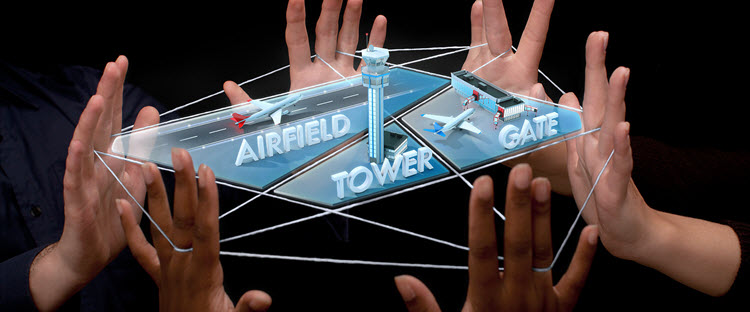 How do you increase safety and situational awareness across operational borders at your airport? What do you do to reduce Air Traffic Control (ATC) workload and minimize the risk of human error caused by poor surveillance coverage in and around the gate and apron areas? Do you utilize existing data and technology at the gate to provide surveillance gap filler functionality to the airport ATC surveillance system? ADB SAFEGATE's Advanced Visual Docking Guidance System (Safedock A-VDGS) is an example of a technology that helps secure time performance and provides operational benefits in an airport cross-silo environment.
For many years ADB SAFEGATE has provided solutions to the airport airside traffic community that span over several organisational borders. This is sometimes referred to as a cross-silo solution – providing improvement to several airport stakeholder operations at the same time. The airport operations environment encompasses a complex structure where a cross-silo solution may be the only way to solve issues that cannot be handled by a single organisation at the airport.
Today it is common practice for ATC at medium to large airports to utilize some kind of airside traffic surveillance for control and monitoring of aircraft and vehicle movements. Traditional surveillance sensor technology used in airside traffic surveillance has for many years been troubled by poor coverage in and around the gate/apron area. Poor sensor coverage in these areas is mainly due to the distortion of surveillance signals when bouncing off reflective materials on terminal buildings and passenger bridges. This distortion reduces reliability of the surveillance data, which results in areas that cannot meet the airport surveillance criteria and have to be disconnected from the surveillance coverage area.
When gate areas are disconnected from the surveillance system, it inhibits the verification of departing aircraft ID, which would usually be matched to the ID presented (positive ID) in the surveillance system display. Without automatic system verification of aircraft ID, the responsible air traffic controller has to manually verify aircraft ID. This is a cumbersome process, which adds manual work and increases the possibility for safety issues if not handled correctly.
Many airports operating ground traffic surveillance also operate A-VDGS. A-VDGS is installed at the gate to aid the pilot in the last taxiing phase to safely dock the aircraft. The surveillance technology found in Safedock A-VDGS that is used for docking can also be used for tracking aircraft when they push back from the gate. The Safedock A-VDGS sensor is not susceptible to the distortion issues common in the traditional surveillance technology.  With a centralised system at the airport connecting all A-VDGS at the gates, the Safedock system is able to provide full surveillance coverage in the gate area – filling the gaps that are not covered by the traditional ATC surveillance technology. The processed gate surveillance "gap filler" data provided from Safedock A-VDGS is then available to the ATC surveillance system for further processing. This builds an integrated airside surveillance view of the entire airport. The gap filler data provided from the centralized A-VDGS system closes the loop, and the surveillance system is now able to support automatic ID verification for outbound traffic.
Utilizing this existing technology at the gate to provide surveillance gap filler data to the airport ATC surveillance system, is an example of how cross-silo solutions and data sharing can increase safety and situational awareness across operational borders.
Find out more about how Safedock A-VDGS can improve operations at your airport.
ADB SAFEGATE is a leading provider of intelligent solutions that deliver superior airport performance from approach to departure. The company partners with airports and airlines to analyze their current setup and operations, identify bottlenecks, and jointly solve them using a consultative approach that enables airports to improve efficiency, enhance safety and environmental sustainability, and reduce operational costs. Our integrated portfolio includes solutions and services that harmonize airport performance, tackling every aspect of traffic handling and guidance, from approach, runway and taxiway lighting, to tower-based traffic control systems, and intelligent gate and docking automation. ADB SAFEGATE has more than 900 employees in more than 20 countries and operates in more than 175 countries, serving more than 2,000 airports.