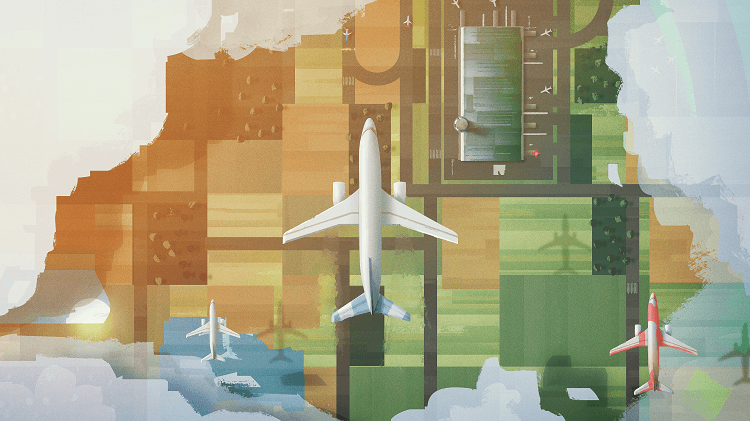 The positive impact aviation has on the global economy, social diversity and human development is truly staggering and could be seen as the main grease for global development. It also means that as a truly global industry we have to aspire, and have a clear ambition, towards reducing our environmental footprint and creating a low carbon pathway towards sustainable growth. Sustainable practices and technology advances are the two main ingredients in an upwards spiral that maintain the positive trend towards sustainable growth.
Today, aviation is reported to support nearly 60 million jobs and a has a global economic impact (direct, indirect, induced and tourism catalytic) of over $2 trillion, or over 3% of world gross domestic product (GDP). These already high figures are expected to double in 20 years time. In 2050, it is estimated that more than 9 billion people will inhabit the world, whereof 6 billion will live in cities and more than half of the population will reach living standards to accommodate leisure travel by air. On top of this, the continuing trend of business globalization will also increase the demand for air travel. This traffic increase will, and has already, put a lot of stress on airports, airlines and support organizations which are continuously working on improving their infrastructure, performance and operations. Improvements that will also directly generate a positive impact on reducing the aviation environmental footprint.
Sustainable practices and technology advances are the two main ingredients in an upwards spiral that maintain the positive trend towards sustainable growth.
Below are some examples of technology improvements that are gaining footholds around the world, and that will have a great impact when it comes to reducing the aviation environmental footprint. They represent some of the recent inventions that not only reduce CO2 and NOx, but also reduce ground noise due to reduction of time when aircraft engines and gate/apron equipment are used on ground:
 New airfield lighting technologies including light emitting diode and control and monitoring technology that provides up to 90% energy savings – equating to annual savings of up to 5000 tonnes of CO2 for a medium sized airport. Read more about low-current-airfield-lighting-systems.
Gate technologies supporting airport collaborative decision making which large airports report annual reductions of up to 17000 tonnes of CO2.
Read more about gate integration.
Airport routing and guidance systems providing more efficient aircraft taxi-in and taxi-out guidance with reduction of up to 40% in taxi times. In turn, this has the capability to reduce fuel burn and CO2 emissions in the range of tens of thousands tonnes annually. See two key validation exercises at Frankfurt Airport (2013) and Munich Airport (2015), where the SESAR European Airports Consortium (SEAC) together with its partners have tested different aspects of Follow The Greens.
Several new inventions are undergoing testing and are on their way to reduce the airport environmental footprint even further. But there is always more to do. Even small efficiency improvements and savings offer significant benefits overall. With fuel making up over 30% of airline operating cost, operating aircraft in the most efficient way at the airport is critical to the future of the aviation industry, not just for environmental reasons but also for financial ones. With implementation of technology improvements, we can hopefully look forward to a similar development seen with each new generation of aircraft, which are proven to be up to 25% more fuel efficient than the generation it replaces, meaning that aircraft today produce over 70% less CO2 per seat than in the 1950s.
Related  reading:
Aviation benefits beyond borders
United Nations 2015 Revision of World Population Prospects