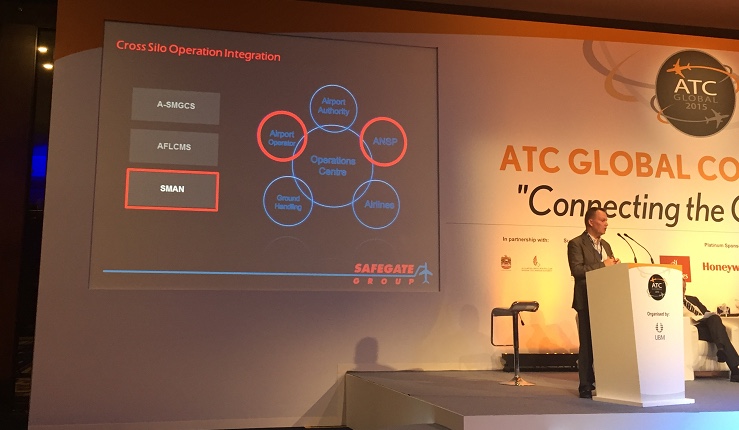 Cross-silo operation, system integration and  benefits from "follow the  greens" were on the agenda when Safegate's Roy Bolwede gave his presentation  "Airports and the ATM System – Where Next?" at the  ATC Global Conference 2015 in Dubai. The international air traffic management community was gathered for a three-day seminar and exhibition where each continent and more than one hundred countries were represented.
"Airports are an integral part of the ATM system. Meanwhile, new tower systems, airfield lighting and communications capabilities are integrating air traffic management into airport operating systems as never before. All this is taking place alongside the introduction of Remote Towers and the need to deliver the airport performance improvement areas defined by ICAO. How will these capabilities evolve?"
The above was the introduction to the speaker session in which Safegate's Roy Bolwede presented "Airports and the ATM System – Where Next?", where he addressed the benefits and challenges in cross-silo operation and system integration.
It is vital that cross-silo system integration is preceded by a thorough understanding by all involved stakeholders – what the different organizations operations entails and what expectation the integration should meet. In most cases the result of the integration, from a technical standpoint, is well known and analyzed. But from an operational perspective a general framework is needed to facilitate and utilize the full potential of cross-silo integration.
The benefits from "follow the greens" are well documented from both simulations and from the airports where the concept is fully operational. The next step will be for standardization and regulation bodies to build a supporting framework to help airports in pre-planning, design, implementation and operation to fully take advantage of the benefits that it can bring to the airport safety, efficiency and environment.
With airport traffic expected to double within only 15 years, growing globally at between 4 and 7% annually, the different stakeholders in airport industry needs to work together to allow for this future growth
Stephen Creamer, the Director of the Air Navigation Bureau at the International Civil Aviation Organisation (ICAO) also expressed the  related bigger issue in an opening address at the conference: "In order to sustain its unparalleled safety reputation, keep pace with growth, and maximise efficiency while minimising adverse effects on the environment, the aviation industry must increase collaboration within and across industry sectors, irrespective of national or regional boundaries,"
ATC Global 2015, well visited by key industry influencers from each continent, is over for this year but  ATC Global 2016 will return to Beijing next year on 12-14 September and in Beijing the important discussions about integration and cross silo operation needs to continue.
Related Links: