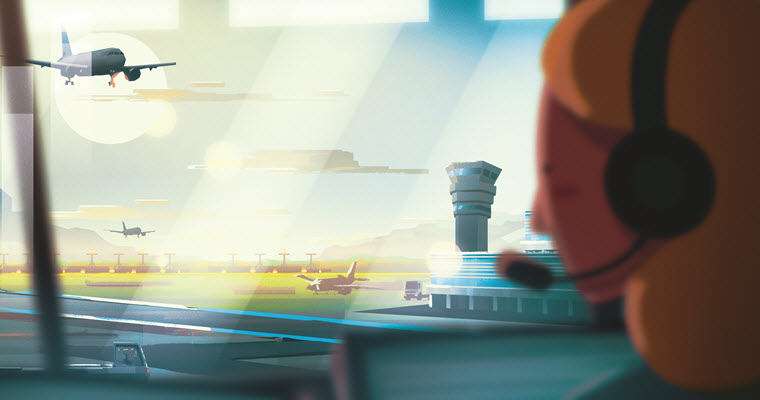 DUBAI. On November 13-17, ADB SAFEGATE will be participating at the Dubai Airshow. Leading up to the event, Ieyasu Sugimoto, Global Solution Manager for ADB SAFEGATE´s tower business is sharing his thoughts about the future of ATC.  On Monday, November 13, at 12:40-13:00, Christian Woborsky, Product Manager for our OneControl tower solutions will be speaking at the Aviation Mobility stage at the conference.
Ieyasu Sugimoto works as Global Solution Manager, Tower at ADB SAFEGATE and for Dubai Airshow Website he answered these 4 questions about the future of ATC.
Have industry players been quick to adapt technology to cater to the changing needs in the market?
The pandemic has been a turning point. While the aviation industry has been traditionally very conservative over the last decades, the dynamics caused by the pandemic have led to a rapid increase in acceptance of new technologies. Companies in aviation sector are now forced to adopt modern technologies that have been established in other industries years ago to keep cost down, make sure that infrastructure is maintained and generally keep up with the pace of modernization. Additionally, new technologies and architectures are needed to support future operational concepts and satisfy the appetite for digitalization, automation and virtualization so that the aviation industry can further increase safety and drive efficiency and capacity increase.
In which areas and geographies do you see strongest potential for growth?
Strongest growth in aviation industry from air traffic management perspective is expected in Middle East and APAC. Middle East is striving further to be established as the hub center between Europe and Asia and we see strong investments in infrastructure driven by traffic increase enabled by leading airlines. Growth in APAC is pushed by large population (like India, China, Indonesia) with a rising middle class that can afford and demand domestic and regional flights.
What technologies do you predict will impact the ATM industry most in the next five years?
Different forms of unmanned aerial traffic will impact ATM industry most. With the anticipated growth in drone operations, dedicated traffic management systems for unmanned aircraft will become crucial. UTM systems will allow for the safe integration of drones into the airspace, ensuring they don't interfere with manned aircraft operations. Since UTM is still an evolving area, and until industry standards have been established and adopted, integration of UTM with ATM will be a challenge on operational and regulatory level.
How can new technology support air traffic capacity growth?
Technology will drive automation and free up mental and physical capacity in the daily work of people involved in all areas of air traffic, enabling them to focus on additional work and move into a more supervising role. AI-driven algorithms can predict congestion, optimize traffic flow, and assist controllers in making real-time decisions. These systems can also analyze vast amounts of data to forecast potential issues and suggest preventive measures. New surveillance technologies and operational concepts allow closer spacing of aircraft without compromising safety, and digital and remote control towers further enhance visibility and control and allow more traffic to be handled even in adverse weather conditions. Finally, technology support allows air traffic controllers to work with free route airspace which alleviates congested routes while saving fuel and reducing CO2 emission.
Hear more from ADB SAFEGATE at the Conference
The Aviation Mobility stage gathers decision makers at the conference to discuss the latest trends and challenges across the broader aviation spectrum. From Advanced Aerial Mobility to Air Traffic Management and Passenger Experience, the diverse tracks promise to offer valuable insights and expertise to elevate understanding of the industry.
On Monday November 13 at 12:40-13:00, Christian Woborsky, our Product Manager for Onecontrol (Tower Solutions)  will be speaking at the Aviation Mobility stage. The subject is "Accelerating innovation from approach to departure", explaining how to deliver real-time insights for advanced decision making by connecting the ATC ecosystem.
Dubai Airshow | Monday November 13, 2023 | 12:40 – 13:00 | Accelerating innovation from approach to departure
ADB SAFEGATE  is a company that provides integrated solutions to airports, airlines, and ANSPs.  We are proud to be leading the way with innovative and smart Airside 4.0 solutions that turn airports into smart airports, with the ultimate goal of enhancing the passenger experience. Solutions include airfield lighting, power and control systems, airport and tower software, docking automation, apron management, and aftermarket services.  With over 1,400 employees and over 2,700 airports in over 175 countries, from the busiest and largest to the fastest-growing airports, ADB SAFEGATE is dedicated to making air travel safe, efficient, and environmentally friendly.