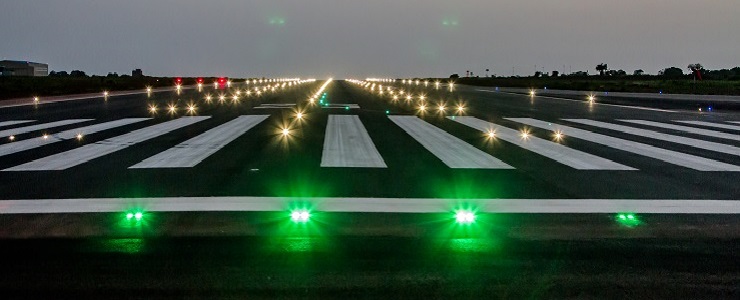 Ghana Airport Company Limited (GACL) chose ADB SAFEGATE to upgrade the Tamale Airport with efficient CAT II LED airfield ground lighting (AGL). The airport was in dire need of an upgrade as the existing narrow runway did not support night operations. The upgrade will help accelerate growth and development of the region, setting it up as an economic hub.

ADB SAFEGATE upgrades airport with CAT II LED Airfield Ground Lighting to enable night operations
The growth of the African continent sees no limits. In 2014 more than 50 million tourists travelled to Africa, making it one of the world's most popular regions. With a strong airport industry this number is expected to increase further in 2017 and beyond. By 2034, eight of the ten fastest growing aviation markets will be in Africa, while nearly 300 million passengers will travel to and from African destinations.
ADB SAFEGATE has been active in Africa since more than 50 years and during the time taken part of various airport traffic expansion projects. One of the airports that is preparing to meet increasing traffic is Ghana's Tamale Airport where ADB SAFEGATE helps upgrading the airport with CAT II LED Airfield Ground Lighting to enable night operations.
It was necessary to enable night operations at the Tamale Airport to increase connectivity and economic activity in the region. ADB SAFEGATE was the obvious choice as we share a strong relationship with GACL, having partnered on a number of projects in the past. Equipped with a strong LED portfolio, ADB SAFEGAGTE had the best proposal and time plan, delivering in time for Hajj operations in 2016
– Ing. Yaw Appiah-Danquah, Projects Manager (M&E), GACL.
ADB SAFEGATE provided CAT II full LED AGL to power the Tamale Airport in a turnkey project that included ASP (individual lamp control and monitoring), control system, power distribution system, standby generators, floodlights and approach masts as well as site management.
GACL wanted the airport to be ready to receive Boeing 747 for Hajj operations in August 2016 which was made possible with timely delivery by ADB SAFEGATE.
We have a strong presence in Ghana having already worked with GACL in Accra Kotoka International Airport, Kumasi Airport and Takoradi Airport. Equipped with ADB SAFEGATE airfield ground lighting, the Tamale Airport will experience increased throughput, longer operational hours and most importantly night time operations. Our solutions not only help save energy and power consumption but also enhance safety, making Tamale one of the key airports in Ghana!
– Alexander Herring, Director Sales Africa, ADB SAFEGATE.
ADB SAFEGATE airfield, gate and tower solutions have been powering airports across Ghana and the Tamale Airport project further strengthens its presence in the region.
ADB SAFEGATE is a leading provider of intelligent solutions that deliver superior airport performance from approach to departure. We partner with airports and airlines to analyze their current structures and operations, and jointly identify and solve bottlenecks. Our consultative approach enables airports to improve efficiency, enhance safety and environmental sustainability, as well as reduce operational costs. Our portfolio includes solutions and services that harmonize airport performance, tackling every aspect of traffic handling and guidance, from approach, runway and taxiway lighting, to tower-based traffic control systems and intelligent gate and docking automation. ADB SAFEGATE has 900+ employees in more than 20 countries and serves some 2,500+ airports in more than 175 countries.