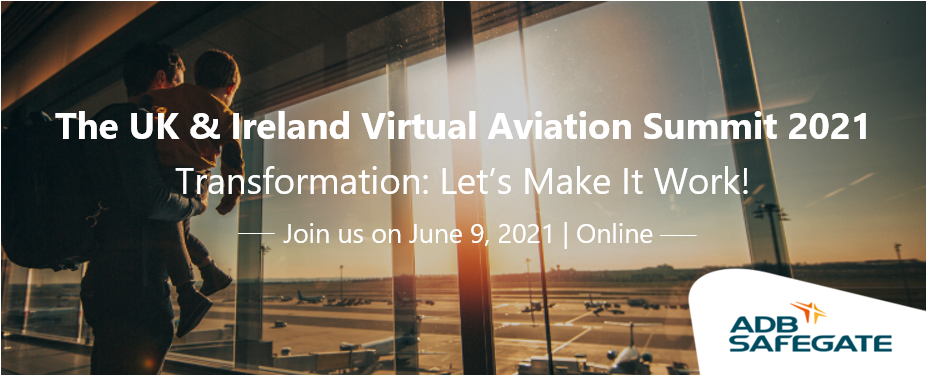 Our annual Aviation Summit UK & Ireland is back and this year it will take place virtually on June 9, 2021. The Aviation Summit will look at how our industry can meet current and upcoming challenges with new solutions and innovative approaches. With a mix of industry speakers from the UK and abroad, including one of the industry's top journalists as moderator, the Aviation Summit promises to be the event not to miss this year.

Our annual Aviation Summit UK & Ireland is back and will take place virtually June 9, 2021.

Due to the COVID pandemic, the aviation industry is facing several unprecedented challenges. To meet them, changes must be implemented. Smart technologies, innovative service solutions, alternative commercial models, new or updated infrastructures, remote maintenance, system monitoring …
These and other transformations have the potential to significantly impact the industry, not only in the short-term but in the years and decades to come. But they all depend on one crucial factor. Theory must be converted into practice! This is exactly the focus of The UK and Ireland Aviation Summit 2021.
Under the theme "Transformation: Let's Make It Work", a range of speakers from across Europe will describe how innovative services, products and solutions are already being implemented to bring about the concrete transformations necessary for the industry. It will include real case studies from major airports and will be moderated by one of the industry's top journalists. There will also be ample opportunity for you to provide your own insights.
Join us on June 9, 2021 for this key event on the aviation calendar. To register for the event, click the button below.

Visit our web site to read more about the Aviation Summit and all other events that ADB SAFEGATE is attending. If you have any questions you are more than welcome to contact Asfa Butt, Marketing Communication Event Officer at ADB SAFEGATE.
ADB SAFEGATE provides integrated solutions that raise efficiency, improve safety, boost environmental sustainability and reduce operational costs for airports, airlines and ANSPs. The company works with airports and airlines to solve operational bottlenecks from approach to departure. Solutions encompass airfield lighting, tower-based traffic control systems, intelligent docking automation and services, as well as applying advanced IT and analytics to deliver industry-leading Total Airport Management. For more information about ADB SAFEGATE, please visit our website at adbsafegate.com.