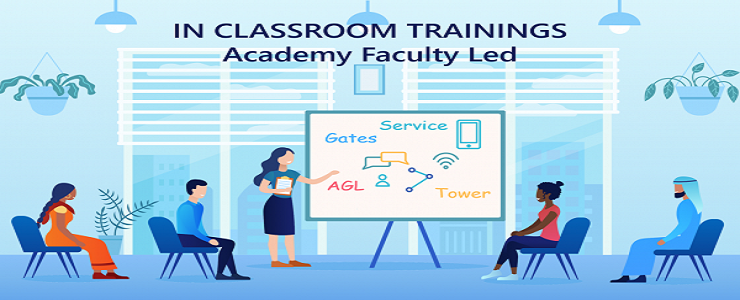 Soon, we will have the pleasure to resume with in-person training sessions in our factories and offices. We are looking forward to welcoming back our customers to our facilities, but we can't just train the way we did before the pandemic. Why? Because it taught us the advantages of online learning and showed us new, hybrid ways to train that combine the best of in-person and online training.
Travel is in our genes, and learning by doing is our signature; therefore, even though we explored online learning possibilities before the pandemic, it was typically only offered as an alternative to in-person training when travel costs were prohibitive.
The pandemic forced us to elevate our game to provide more suitable online learning alternatives. One cannot deliver Virtual Instructor-Led Training (VILT) the same way as in-person classroom training. Adequate timing, tools to enhance interaction and tricks to improve the learner's focus are among the many parameters to set correctly to ensure a great learning experience!
We're still not perfect, and the field of online training is quickly evolving. But, by trying new techniques we've improved our offering, and we've seen how beneficial online learning can be.
Online education doesn't need to be passive. Using interactive apps, polls and games, we've managed to keep students engaged and increase interaction with our content. Likewise, online learning should not be only theoretical. The AGL 5kV Splicing & Termination session, that included a tool kit program, is an excellent example of practical online training. We demonstrated how to make actual connections and ensure delegates could replicate those connections safely and precisely at their workplace using the correct procedure and tools.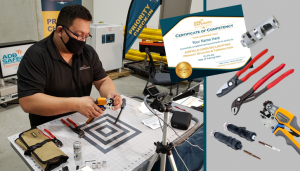 We look forward to continuously improving our training and are currently offering both Virtual Instructor-Led Training (VILT) and classroom sessions.
We will soon provide hybrid Certified Professional programs, mixing online and in-person learning. This hybrid method will allow delegates to better process the information by learning in smaller chunks over more time. Furthermore, it enables more regular online testing. Delegates will receive feedback on their progression, allowing them to adjust their learning effort if needed. Through consistent testing and quizzes, we can now award certificates for VILTs and online courses, offering our customers the best of both worlds!
Please contact your local ADB SAFEGATE local sales representative for more information about our training offering. We are eager to hear from you!
ADB SAFEGATE provides integrated solutions that raise efficiency, improve safety, boost environmental sustainability and reduce operational costs for airports, airlines and ANSPs. The company works with airports and airlines to solve operational bottlenecks from approach to departure. Solutions encompass airfield lighting, tower-based traffic control systems, intelligent docking automation and services, as well as applying advanced IT and analytics to deliver industry-leading Total Airport Management. For more information about ADB SAFEGATE, please visit our website at adbsafegate.com.