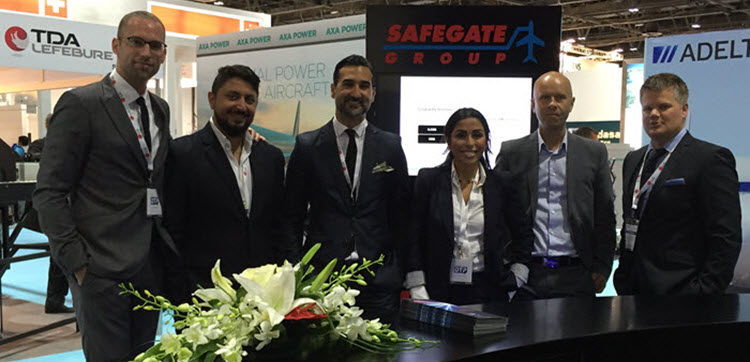 The 15th edition of Airport Show 2015 took place May 10-12 at the Dubai International Convention & Exhibition Centre. The show is the largest annual airport exhibition in the world with over 250 companies exhibiting and representatives from all over the world.
ADB SAFEGATE, who has had an office in Dubai since 1997, has attended the exhibition for many years and this year exhibited around the topics of airport traffic expansion and experiences from the region.
By 2035 air traffic will have doubled. ADB SAFEGATE can help airports unlock their hidden potential for airport traffic by looking across the different divisions within an airport. This approach was received with very positive feedback throughout the exhibition. As Dubai World Central Airport presented its vision for the future with 6 runways and 500 parking positions, the timing of this topic was perfect.
ADB SAFEGATE has recently implemented its solutions in Muscat, Salalah, Jeddah, Medinah etc. The experiences gained were presented and appreciated by other airports in the region. With a lot of other large projects coming up in UAE, Bahrain and KSA, ADB SAFEGATE believes it will be a key player and a total solution provider.
The Airport Show reported an increased number of attendees this year, with participants from all over the world. The ADB SAFEGATE´s office in Dubai reports that many new contacts were gained.
Click here to see more pictures of the event.
For more information please contact:
E-mail: dubai@adbsafegate.com
Phone: +971 4 452 7575
ADB SAFEGATE is a leading provider of intelligent solutions that deliver superior airport performance from approach to departure. The company partners with airports and airlines to analyze their current setup and operations, identify bottlenecks, and jointly solve them using a consultative approach that enables airports to improve efficiency, enhance safety and environmental sustainability, and reduce operational costs. Our integrated portfolio includes solutions and services that harmonize airport performance, tackling every aspect of traffic handling and guidance, from approach, runway and taxiway lighting, to tower-based traffic control systems, and intelligent gate and docking automation. ADB SAFEGATE has more than 900 employees in more than 20 countries and operates in more than 175 countries, serving more than 2,000 airports.