Africa's aviation sector is growing rapidly, and airports need to prepare  for their market situation in five, 10, or even 20 years since it may take that long to actually develop or adapt the master plan to meet the airports changing need and to provide the infrastructure and capacity  needed. The 6th Annual Africa Airport Expansion Summit in Addis Ababa gathers the industry in order to explore the market and support the project development.  ADB SAFEGATE´s  Alexander Herring, chairing the Summit shares his thoughts about the future of African aviation.
Airports in Africa are key for socio-economic development
The aviation industry powers global travel, fostering economic links and trade. It is a key factor in linking a country to the global economy. It provides greater opportunities for travel and tourism. It connects firms to larger potential sales markets, to more competent supply chains and to greater investment opportunities. It helps to mend productivity levels, to the benefit of the national economy. This counts even more in case of Africa – the continent has vast potential considering that 41% of its current population is below 15 years old versus the global average of 26%.
The aviation industry has a dynamic role to play in accomplishing sustainable development in Africa
By 2035, Africa will see an extra 192 million passengers a year for a total market of 303 million passengers traveling to and from African destinations. Africa will actually host the top ten fastest-growing markets in percentage terms: Sierra Leone, Guinea, Central African Republic, Benin, Mali, Rwanda, Togo, Uganda, Zambia and Madagascar. Each of these markets is expected to grow by more than 8% each year on average over the next 20 years, doubling in size each decade. The tourism industry has showed considerable development in recent years and aviation plays a vital role in supporting tourism and jobs related to tourism.
The airport of the future
In just a few years, the airport market in Africa has changed considerably. Private-public-partnerships are on the rise. Many countries have developed the "political will" to privatise their airports at least partially, which because of their regular revenue in foreign currencies, are valuable assets for these countries.
Experts believe aircraft requirements in the coming decade will be to the tune of trillion dollars. While cargo fleets will get increasingly dedicated, tourism and charter flights will intensify and low-cost airlines will make their mark. The airport of the future will be one which depends on cooperation, may be with other airports, but certainly with airlines, authorities, industry, investors and financing institutions. Roles that are today often separated will become very integrated.
Africa´s airport and aviation is an exciting space, with its own share of unique challenges at any time, requiring full attention and constant learning. Africa is not only increasingly modernizing airports, but also building greenfield airports.  Experience from the whole life cycle of an airport –  from the start by a political will, conception, financing, construction up to operation and its expansion, provides deep knowledge of the sector.
Challenges of the region
There is a definite need to develop Africa's airports, improve safety and security. The strong growth of air travel puts pressure on airport infrastructure to adapt to the growing demand and changing technology and consequently requires investments.  To meet the growing demand, governments are challenged to seek for sources to finance new and better infrastructure.
In recent years Africa's hope of prosperity was challenged by economic, security and health crises. While growth remained strong at an average of 5%, and African nations have managed to maintain their image as land of opportunity for foreign investment, the economy of some countries dropped significantly. To make matters worse, the prices of key commodities – including oil – exported by the continent plunged. Countries like Nigeria, Algeria, Angola and South Africa found themselves in a difficult position. These countries lack the capacity to finance these huge projects with capital intensive assets. But despite the challenge of poor funding holding them back, it is vital that African airports meet their technology needs. They must be aware and learn of the latest and most efficient technologies as there is no substitute to safety.
The air transport industry is a very fragile source of economic growth in Africa. It requires a collective awareness and willingness to break up the barriers of protectionism and the liberalization of intra-African airspace as foreseen by the Yamoussoukro Decision. Investment in human resources, improvement of infrastructure and equipment, and the adaptation of national regulations with international standards are the pillars of a sustainable aviation industry in Africa.
Air transport liberalization is an essential tool for the development of air services and airports. It plays a key role in the regional integration of economies, which is important for growing passenger and cargo numbers and thus enables sustainable airport development. A World Bank study states that liberalized air transport would deliver improved safety, lower fares and increased traffic in Africa. Better connected African countries and regions through a feasible air transport industry could be the vehicle that boost intra-African business, trade, tourism as well as cultural exchange.
The immediate challenge for airports is to modernize and improve major airports but also regional airports – to make them 'better not bigger'. Six runways are not always necessary especially if the traffic flow can be handled on two runways or even one runway with the right taxiway lighting and guidance technology.
There's no doubt that these are times of challenge and change for the aviation sector. But the sector has the talent, the capacity for innovation, and the determination to meet these challenges.
The 6th Annual Africa Airport Expansion Summit
At the 6th Annual Africa Airport Expansion Summit in Addis Abbaba; government officials, investors, civil aviation authorities and airport management groups will go in discussion with consultants, architects, construction companies, equipment providers and service groups, in order to better explore the market and support the project development. The Summit will be held between February 21st and 22nd.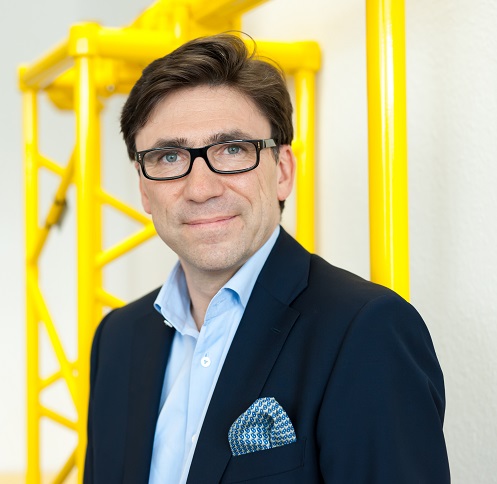 The chairman of the 6th Annual Africa Airport Expansion Summit is Alexander Herring, ADB SAFEGATE´s Regional Sales Director Africa and Managing Director South Africa.
Based on  experience of close to 20 years in the African airport business, Alexander Herring is a regularly invited speaker, panelist and chairman on conferences related to Aviation industry events. in Africa. This year he is chairing the summit for the fourth consecutive year.
Operation and strategy panel discussion
Alexander Herring will also be moderating the operation and strategy panel discussion on the second day of the event, where experts will debate key questions as:
• How are airports maintaining quality of service to meet passenger satisfaction, operational efficiency and commercial revenue targets under current conditions?
• What can regional airports do to attract new airlines and grow passenger numbers?
• How do we enhance passenger experience and boost non-aeronautical revenues to meet the operator`s expectations without putting the traveller under pressure?
It promises to be an exciting and insightful two days with currently confirmed speakers presenting their perspectives on how the ecosystem of investors, civil aviation authorities, airport solutions providers and contractors can work together to support the next phase of airport traffic expansion in Africa.
As to be seen below, the event will be visited by a long list of interesting speakers from the industry: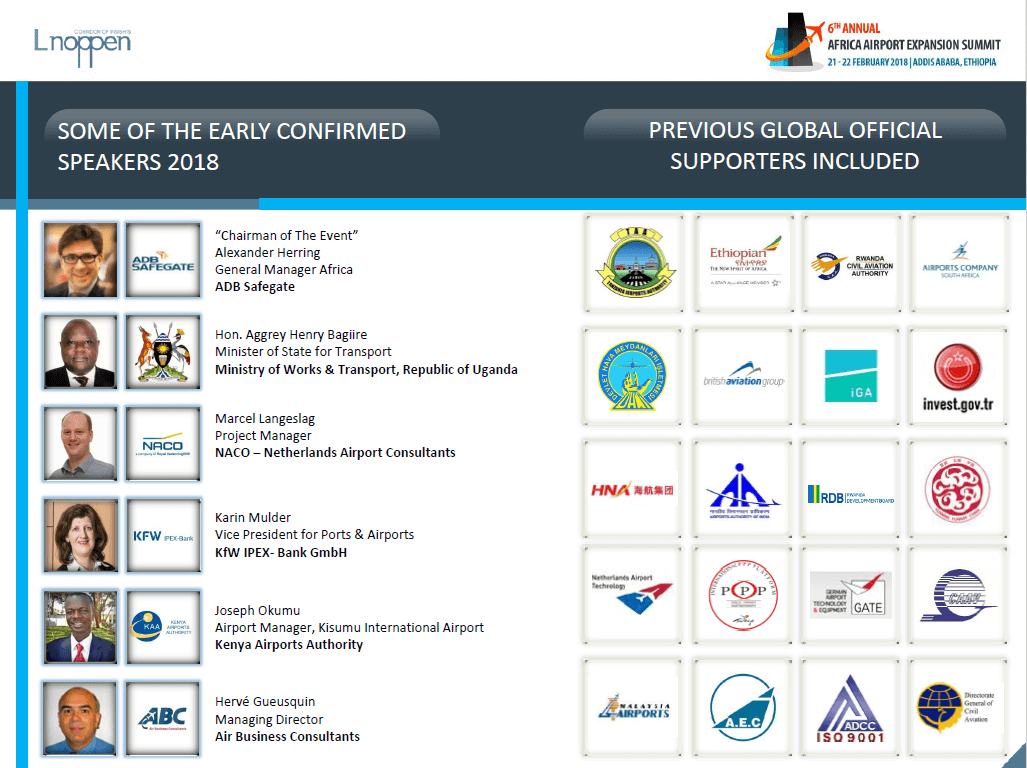 To read more about the Summit, visit the homepage or download the conference programme here.
ADB SAFEGATE is a leading provider of intelligent solutions that deliver superior airport performance and operations, and jointly identify and solve bottlenecks. Our consultative approach enables airports to improve efficiency, enhance safety and environmental sustainability, as well as reduce operational costs. Our portfolio includes solutions and services that harmonize airport performance, tackling every aspect of traffic handling and guidance, from approach, runway and taxiway lighting, to tower-based traffic control systems and intelligent gate and docking automation. ADB SAFEGATE has 900+ employees in more than 20 countries and serves some 2,500+ airports in more than 175 countries.