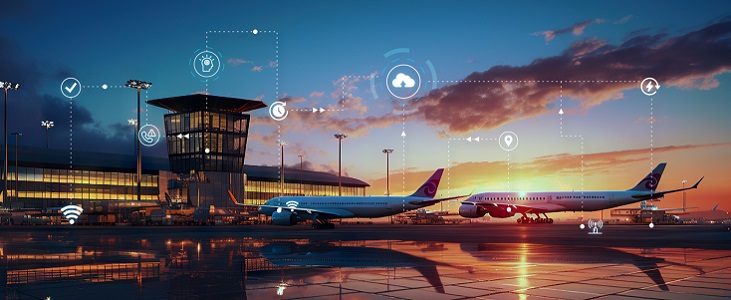 The aviation industry is evolving rapidly and airports must adapt to meet the new challenges and demands of the industry. Hubs are under more pressure than ever to reduce costs, increase safety and improve efficiency. The Airside 4.0 concept by ADB SAFEGATE empowers them to achieve these goals by leveraging new and emerging technologies to revolutionise airside operations.
In the latest issue of Airports International Magazine, Regardt Willer, VP business development and innovation at ADB SAFEGATE, explains how the Airside 4.0 concept will enable airports to tackle today's problems head on. This is part one of three excerpts from the article. To view the full article in Issue 3 2023 you´ll need an Airports International Magazine subscription.
Connectivity for better decisions
Airside 4.0 is a digital transformation technology that enables smarter decision-making and improved situational awareness at airports. It connects devices, assets and systems to a cloud-based platform, enabling sharing of digital data without manual intervention. This connectivity is facilitated by the Internet of Things (IoT) technology, which consists of five main components: IoT devices, the gateway, the cloud, analytics and the user interface.
The process starts with selecting the correct smart device for collecting relevant data that airports need. One such device is ADB SAFEGATE's AXON EQ intelligent LED airfield ground light with built-in sensors that capture data essential to airport operations.
The next step is to right-size device connectivity to the cloud. ADB SAFEGATE's LINC 360 is the latest generation of powerline communications that goes beyond classic individual light control and monitoring systems to relay real-time two-way data on the airfield series circuit. It also provides a platform for over-the-air updates to the airfield lights and other connected intelligent IoT devices.
LINC Node further expands an airport's connectivity strategies by allowing airports to IoT-enable legacy airfield ground lighting (AGL) or peripheral airside products from which they wish to extract data. It establishes a wireless gateway like 5G or LTE to stream data to the cloud, allowing real-time remote monitoring.
The Airside 4.0 digital transformation technology enables smarter decision making and improved situational awareness at airports.
Read all blog articles based on the article fully published in Airports International Magazine Issue 3, 2023:
Part 1: Empowering THE airside evolution – Connectivity for better decisions
Part 2: Empowering THE airside evolution – Sensors and digital twinning
Part 3: Empowering THE airside evolution – Intelligent AiPRON and Airside 4.0
ADB SAFEGATE  is a company that provides integrated solutions to airports, airlines, and ANSPs.  We are proud to be leading the way with innovative and smart Airside 4.0 solutions that turn airports into smart airports, with the ultimate goal of enhancing the passenger experience. Solutions include airfield lighting, power and control systems, airport and tower software, docking automation, apron management, and aftermarket services.  With over 1,400 employees and over 2,700 airports in over 175 countries, from the busiest and largest to the fastest-growing airports, ADB SAFEGATE is dedicated to making air travel safe, efficient, and environmentally friendly.