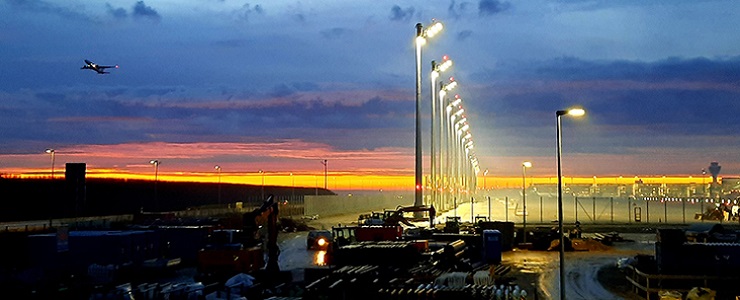 Munich Airport's New Apron Module C 02.5, located south east of the airport area, provides 21 new stands. The project was completed in March 2021, with opening for full operation in April 2021. Frank Wunderlich, VP of Central and Eastern Europe, ADB SAFEGATE, explains Munich Airport's approach as a technology leader in adopting the newest and best technologies for the new apron to Ross Falconer, ACI Europe Airport Business.
This is part of an article written by Ross Falconer and originally published in ACI Europe Airport Business Mgazine. To read the full article, visit ACI Europe Airport Business Magazine. Credit to the publication and the author Ross Falconer.
Work on Munich Airport's New Apron Module C 02.5 commenced onsite in May 2019 with mobilisation of the project team. Installation schedules were planned, and the detailed scope defined in order to achieve the airport's desired end-solutions.
"The real installation works started around the beginning of 2020," explains Frank Wunderlich, VP of Central and Eastern Europe, ADB SAFEGATE. "We successfully achieved the first milestone with the handover of the first stands in the northern part of the apron in November last year."
The work for the sales team started at a much earlier stage.
"We tackle such projects from a holistic angle, analysing and identifying the challenges of ground operations for the flow of aircraft, passengers, baggage and cargo to improve the total airport performance of the relevant customer."
The project scope included the entire package for the electrical and IT infrastructure of the new apron:
Airfield Ground Lighting: 850 new LED light fixtures for taxiway centreline and lead-in lines. All lights are equipped with individual lamp control to allow routing and guidance of aircraft to their designated stand. The entire system is built according to the highest safety regulations and follows the SELV (safety extra low voltage) regulation (IEC 62870) that allows safe maintenance of the fixtures in the field.
Advanced Visual Docking and Guidance System (A-VDGS): 21 new Safedock units for safe and precise docking of aircraft at their stands, combined with individually-controlled lead-in lights that allow pilots to better identify the allocated stand. Extension of the SafeControl Apron Management System to allow efficient allocation of stands.
Apron lighting: of 35m high poles with a special lowering system. The latest energy-efficient LED lighting concept and a new control system.
400 Hz power supply for aircraft with static converters.
50 Hz power supply equipment for a new substation with medium-voltage and low-voltage switchgear.
Entire cabling network for all systems at the apron.
Installation of IT network and referring infrastructure.
Delivery and installation of charging stations for electric vehicles.

"All this needed to be implemented on a turnkey basis, including all interfaces between the new systems themselves and with the existing airside infrastructure," says Wunderlich. "As not all products and systems are being produced in-house by ADB SAFEGATE, we have lined-up with various experienced and specialised partners for this challenge and integrated them within our project team."

ADB SAFEGATE has a longstanding relationship with Munich Airport since its opening in 1992. Its understanding of the airport's needs, therefore, allowed ADB SAFEGATE to offer the best possible solutions for seamless integration into the existing infrastructure.
Knowing Munich Airport's project culture from a variety of projects during the last 30 years has helped us to fully understand the expectations that the customer had for us, Wunderlich explains.
"Those expectations were very high and this was clear from the beginning of the project. You can only run such a project in an extremely structured way and with a very experienced and professional team on both sides. But making the project a success also means a close and silo-free coordination between all stakeholders and a trustful and open-minded atmosphere during the entire project duration."
"Finally – and this is sometimes forgotten nowadays – a good level of common sense and a direct communication line with the stakeholders can easily solve problems before they even occur. This was done by all stakeholders on this project and created a truly agile and collaborative culture."
This post is part of an article written by Ross Falconer for ACI Europe Airport Business.  To read the full article, visit ACI Europe Airport Business.  Credit to the publication and the author Ross Falconer.
ADB SAFEGATE provides integrated solutions that raise efficiency, improve safety, boost environmental sustainability and reduce operational costs for airports, airlines and ANSPs. The company works with airports and airlines to solve operational bottlenecks from approach to departure. Solutions encompass airfield lighting, tower-based traffic control systems, intelligent docking automation and services, as well as applying advanced IT and analytics to deliver industry-leading Total Airport Management. For more information about ADB SAFEGATE, please visit our website at adbsafegate.com.