VIDEO. The main goal of a multilateration system is to detact and identify targets on the ground. As such the MLAT system is the key element for the surveillance service of an ASMGCS system. The multilateration (MLAT) product improve approach and ground surveillance at airports. Watch the video interview  where Luca Menè from ADB SAFEGATE presents OneControl MLAT.

End-to-end approach and on-ground surveillance at airports
Multilateration is a technology that accurately detects the position of aircraft using a method called 'Time Difference of Arrival' (TDOA) that is calculated when ground or remote units placed in strategic areas around the airport receive and timestamp transponder signals. One of the biggest advantages is the methodology to substantially reduce the multipath effect. This decreases the reflection of neighboring surfaces, such as buildings or aircraft, to guarantee a higher number of aircraft movements even in low visibility conditions.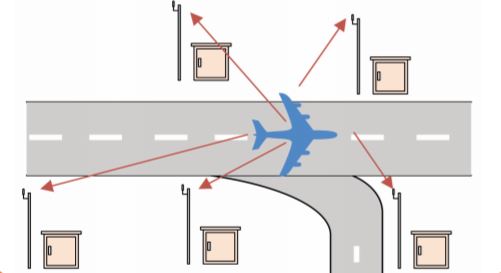 One of the most important pillars of an A-SMGCS system
OneControl MLAT was launched at inter airport Europe 2019 but the product has been operational at Salzburg Airport since October 2017.
You can find more information in the  "OneControl MLAT brochure" and  under the Press Release section  " ADB SAFEGATE launches OneControl MLAT, one of the most accurate and high precision multilateration products on the market ".
Have a question about a product or service? Contact us! Our knowledgeable sales representatives are just an email or phone call away.
ADB SAFEGATE is a leading provider of solutions that boost efficiency, improve safety and environmental sustainability and reduce operational costs for airports, airlines and ANSP's. The company works with customers to identify performance bottlenecks and jointly solve them through integrated solutions that improve airport and airline performance. These solutions address every aspect from approach to departure – airport traffic handling and guidance, airfield lighting, tower-based traffic control systems, intelligent gate and docking automation, services and advanced analytics. ADB SAFEGATE has more than 1,100 employees across 45 nationalities in 25 countries, and operates in more than 175 countries, serving more than 2,500 airports globally.