VIDEO. We´re at inter airport South East Asia 2019 in Singapore where the airport industry has gathered to demo and discuss the latest advances. It´s an important day for ADB SAFEGATE as we are announcing the next generation docking guidance solution – bringing a new level of safety and efficiency to apron operations. If you are unable to visit us at the show, don´t worry – we are reporting "live" from the event. Watch the video to find out more about Safedock X.

ADB SAFEGATE launches Safedock X, a new era in airport gate operations 
As more people fly, airports face growing pressure. This is having a deep impact on the apron and gate areas, where multiple activities must be choreographed to turn aircraft around safely and rapidly.
Safedock X is the latest member of the ADB SAFEGATE family of proven and reliable A-VDGS systems deployed worldwide at hundreds of airports. The system is packed with innovation to bring the future of fully automated, tightly integrated and intelligent docking and apron management closer to reality. New surveillance technologies, modern display capabilities, advanced integration and unrivalled reliability combine to deliver faster, safer aircraft turnarounds under any weather condition.
We are impressed about the high resolution new docking system from ADB SAFEGATE and see a lot of opportunities for this innovative solution at Dubai Airports. The busiest international airport in the world with many challenges that can easily be addressed and solved  by the Safedock X. Looking forward to move to the next level of our partnership.
Mr. Mohammad Khalfan, Dubai Airport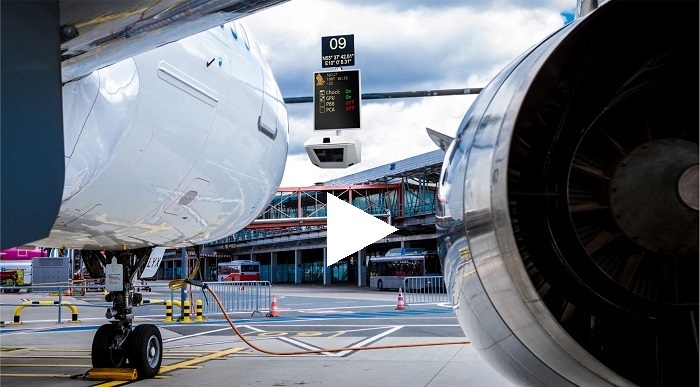 ADB SAFEGATE provides integrated solutions that raise efficiency, improve safety, boost environmental sustainability and reduce operational costs for airports, airlines and ANSPs. The company works with airports and airlines to solve operational bottlenecks from approach to departure. Solutions encompass airfield lighting, tower-based traffic control systems, intelligent docking automation and services, as well as applying advanced IT and analytics to deliver industry-leading Total Airport Management. With more than 1,200 employees, ADB SAFEGATE serves more than 2,500 airports in more than 175 countries, from the busiest and largest like Atlanta, Beijing, Dubai, Heathrow, Charles De Gaulle, Frankfurt, Istanbul, New Delhi and Changi to fast-growing airports across Asia and Africa.