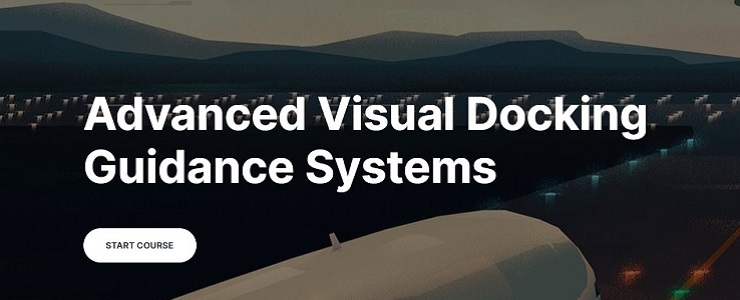 TRAINING ACADEMY. The ADB SAFEGATE Training Academy is launching a new A-VDGS operation online course for pilots and ramp agents. The course will cover important information related to the docking process so users can dock aircraft confidently, safely and efficiently with Safedock A-VDGS.
Why an A-VDGS operation course?
Faster and safer aircraft docking at the gate is key to maximzing efficiency of movements on the apron and ensuring a high rate of safe operations. Our Safedock Advanced Visual Docking Guidance Systems provide accurate information for pilots to park an aircraft precisely and smoothly at the stand. The interface for ramp agents is intuitive and simple to ensure adequate measures can be taken quickly.
The objective of the course is to ensure pilots and ramp agents know how to dock an aircraft safely and efficiently with a Safedock A-VDGS to improve efficiencies at the gate and provide an increased customer service.
By following this training, pilots and ramp agents will maximize the efficiency of our Safedock systems. The course provides an introduction and a general overview of the A-VDGS equipment and applications (i.e. characteristics, features and functionality). From product definitions and components to the docking process, the training uses concrete cases and examples to cover all points that the pilot and ramp agent need to know.
More details? 
The new Safedock A-VDGS training is already available, and for free! Why not have a look?

If you want to have more details about deeper A-VDGS training, don't hesitate to visit the Training Academy website or join us on our new main Training Academy page on LinkedIn!
ADB SAFEGATE provides integrated solutions that raise efficiency, improve safety, boost environmental sustainability and reduce operational costs for airports, airlines and ANSPs. The company works with airports and airlines to solve operational bottlenecks, helping them navigate today's challenges and prepare for tomorrow. Solutions encompass airfield lighting, power and control systems, smart airport and tower software solutions, intelligent docking automation and apron management, as well as aftermarket services. With more than 1,200 employees, ADB SAFEGATE serves more than 2,500 airports in more than 175 countries, from the busiest and largest like Atlanta, Beijing, Dubai, Heathrow, Charles De Gaulle, Frankfurt, Istanbul, New Delhi and Changi to fast-growing airports across Asia and Africa.