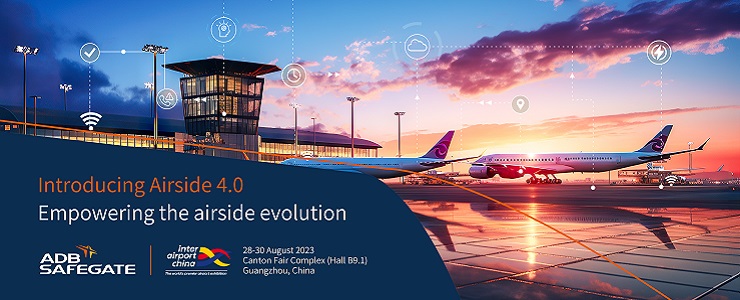 EVENT. During August 28-30, inter airport China | South 2023, will be held in Guangzhou, China. After a three-year hiatus, this event draws wide attention throughout the civil aviation industry and ADB SAFEGATE will take the opportunity to promote its airside solutions such as our RELIANCE portfolio, CORTEX SAFE-r, Safedock FleX and Intelligent AiPRON based on the China market demands. Looking forward to meeting you at the booth!
Inter airport China is known in the industry as Asia's leading event focusing on airport construction, which has had eight successful editions in Beijing and will hold another at Canton Fair Complex in Guangzhou from August 28 to 30, 2023. At the event, ADB SAFEGATE will meet with the top 50 airports, airlines, airport construction groups and design institutions in China, as well as trade visitors and buyers from international markets.
As a global leader in civil aviation airside solutions, ADB SAFEGATE is embracing technology innovation to reimagine airport operations.
With the global trend toward digital transformation, the China market is also on that journey. ADB SAFEGATE Beijing team has been rooted in China Civil aviation and will showcase the targeted solutions which is fully demand oriented. For example, for the RELIANCE portfolio, we have the application case with full-range supply in Xi'an project covering AGL, CRE, ALCMS, ILCMS. We are also taking part in the first runway status light (RWSL) project for a large-scale airport in China, the Shanghai Hongqiao International Airport, so we'll not miss the chance to introduce and promote CORTEX SAFE-r to the China market. Not to mention our innovative Intelligent AiPRON platform, which integrates all the systems and processes important to apron operations into a single ecosystem and therefore will be of great market potential to achieve operational safety and digital transformation.
Please see below for more information on our solutions that will be on exhibition:
With the background that The Civil Aviation Administration of China will further its open-door policy and work towards the goal of planning 136 additional airports in China by 2025, ADB SAFEGATE would like to take this opportunity to show our professional commitment and innovation to more airports.
We are excited to join inter airport China | South 2023 with the good omen of industry recovery after the Covid 19 impact and would like to welcome you to our Booth D06, Canton Fair Complex, Guangzhou on August 28-30, 2023, to experience our cutting-edge products and discuss how they can help enhance the safety, efficiency and sustainability of your airport operations.
ADB SAFEGATE provides integrated solutions that raise efficiency, improve safety, boost environmental sustainability and reduce operational costs for airports, airlines and ANSPs. The company works with airports and airlines to solve operational bottlenecks, helping them navigate today's challenges and prepare for tomorrow. Solutions encompass airfield lighting, power and control systems, smart airport and tower software solutions, docking automation and intelligent apron management, as well as aftermarket services. With more than 1,200 employees, ADB SAFEGATE serves more than 2,500 airports in more than 175 countries, from the busiest and largest like Atlanta, Beijing, Dubai, Heathrow, Charles De Gaulle, Frankfurt, Istanbul, New Delhi and Changi to fast-growing airports across Asia and Africa.