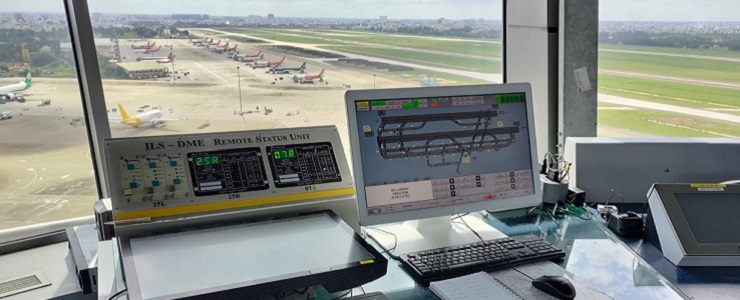 VIETNAM. Tan Son Nhat International Airport (SGN), the largest airport in Vietnam serving Ho Chi Minh City and south-eastern Vietnam, has been an ADB SAFEGATE customer for more than 20 years. The airport recently saw its operating capacity boosted with the opening of its newly renovated runway and taxiways.
The renovation was a two-year project that was completed in two phases:
As the airport is focusing on energy efficiency, ADB SAFEGATE delivered a full LED solution which not only achieved significant energy savings, but has ensured optimal visibility for pilots during takeoff, landing, and taxiing operations, to enhance operational safety and efficiency.
Replacing the aged constant current regulators at Tan Son Nhat International Airport (SGN) with new, dependable devices has reduced disruptions and maintenance needs by providing a consistent and uninterrupted power supply to the airfield lights. The improved control and monitoring solution allows for real-time monitoring, fault identification, and quick response to possible problems, further improving operating safety.
"We are thrilled that we have successfully completed this transformative project at Tan Son Nhat International Airport ," said Wong Hong Sheng, Project Manager for the project.
"The upgraded LED AGL solutions, advanced control system, and efficient power management have significantly enhanced the airport's operational efficiency, reduced maintenance costs, and elevated safety standards. We are proud to have played a role in the modernization of this important aviation hub."
ADB SAFEGATE provides integrated solutions that raise efficiency, improve safety, boost environmental sustainability and reduce operational costs for airports, airlines and ANSPs. The company works with airports and airlines to solve operational bottlenecks, helping them navigate today's challenges and prepare for tomorrow. Solutions encompass airfield lighting, power and control systems, smart airport and tower software solutions, intelligent docking automation and aftermarket services. With more than 1,200 employees, ADB SAFEGATE serves more than 2,500 airports in more than 175 countries, from the busiest and largest like Atlanta, Beijing, Dubai, Heathrow, Charles De Gaulle, Frankfurt, Istanbul, New Delhi and Changi to fast-growing airports across Asia and Africa.