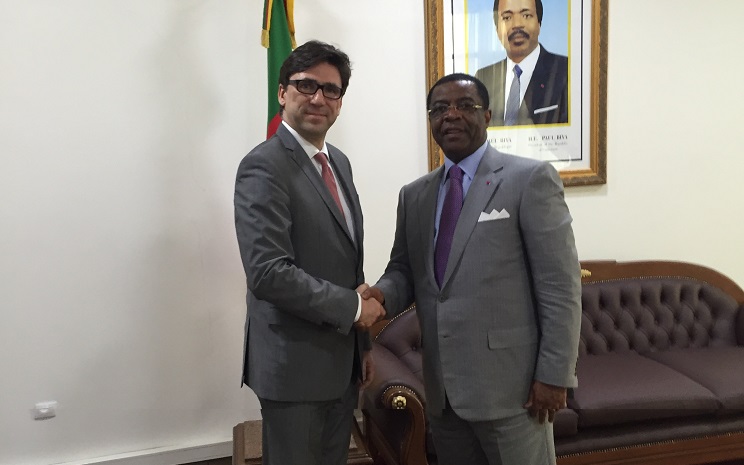 Alexander Herring, Managing Director Safegate Germany/France, recently had an audience with H.E. Minister of Transport of Cameroon, M. Edgard Alain MEBE NGO'O to discuss airport expansion plans for airports in Cameroon, Africa. The country aims to strengthen its role as transport hub for Central Africa by enhancing efficiency and safety at the country's international airports. 
By 2034, eight of the ten fastest growing aviation markets are expected to be in Africa. Nearly 300 million passengers will travel to and from African destinations and much of this growth in air traffic is anticipated in routes within the African continent. Cameroon aims to strengthen it's role as a transport hub for Central Africa by enhancing efficiency and safety of the country's international airports. During the recent meeting, Mrs. Paule Koki, Director General of Cameroon Civil Aviation Authority, presented the current and future expansion plans for the international and regional airports in Cameroon.
Cameroon has 42 aerodromes and among them, ten have scheduled traffic, three are international airports and five are major regional airports. The  international airports are Douala International Airport (Cameroon's busiest airport), Yaoundé-Nsimelen International Airport and Garoua International Airport, while the most important regional airports are Maroua-Salak Airport in the North, Ngaoundéré Airport in the province of Adamaoua, Bertoua Airport in the East, Bafoussam Airport in the West, and Bamenda Airport in the Northwest
Currently, major rehabilitation works are underway at Douala International Airport. It's modernization is financed by French Agence Francaise de Développement. Additionally, Yaoundé international airport, currently operating with Safegate's Safedock, is expected to be expanded in the near future.
Alexander Herring also attended a meeting at the World Bank's office in Yaoundé related to financing the Cameroonian aviation sector. During the meeting, the transport specialist of the World Bank, based in Yaoundé, presented a project currently in the pipeline for improving safety and security of the four largest airports.  These improvements will be achieved by strengthening their capacity for planning, preparation, implementation, operation and maintenance of the facilities in order to fully comply with the International Civil Aviation Organization (ICAO) air safety and security requirements.
The aim is to strengthen Cameroon's role as the transport hub for Central Africa by enhancing efficiency and safety at Cameroon's international airports. The presentation of the project to the board of the World Bank is planned for end of 2016. The source of the project's financing is expected to be the World Bank's International Bank for Reconstruction and from the African Development Bank.