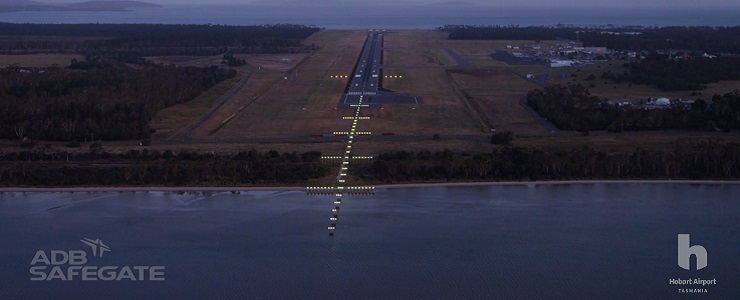 Hobart Airport is located in the Cambridge Region, 17 km northeast of Hobart and is a major passenger airport in Tasmania. The airport stretches across the width of the Seven Mile Beach Peninsula, an area which can experience periods of low cloud, rain and strong winds originating from the Southern Ocean. Image credit: Hobart Airport

Hobart Airport has been at the forefront in the usage of advanced technologies to improve their operations including projects aimed at reducing energy costs, optimising maintenance requirements and lessening environmental impacts. As part of those efforts, Hobart Airport were the first airport in the world to introduce a low power (2amp) High Intensity Approach Lighting (HIAL) and taxiway system, which also included the first LED HIAL system in Australia. They have recently built on that success with a new project to become the first airport in Australia to introduce an LED High Intensity Runway Lighting (HIRL) System.
As part of the project, ADB SAFEGATE and Hobart Airport have worked together to deliver a conversion from Halogen lighting to LED lighting technology for their HIRL System. The project has now been completed successfully with all ground and flight tests passing their requirements on 26th July 2018. ADB SAFEGATE are proud to have partnered with Hobart Airport to develop and deliver these world class, world leading solutions and we look forward to a strong ongoing partnership long into the future.
Commenting on the successful outcome of this innovative project, Jimmy Maitland, General Manager ADB SAFEGATE Australia stated "We would like to congratulate the team at Hobart Airport on what is a significant day in the history of the airport's operation. This achievement is also significant in the context of the wider Australian aviation industry, and paves the way for other airports to advance to the latest in airfield ground lighting systems that deliver tangible improvements in safety and efficiency for airport operators, airlines and the flying public."
ADB SAFEGATE is a leading provider of solutions that boost efficiency, improve safety and environmental sustainability and reduce operational costs for airports, airlines and ANSP's. The company works with customers to identify performance bottlenecks and jointly solve them through integrated solutions that improve airport and airline performance. These solutions address every aspect from approach to departure – airport traffic handling and guidance, airfield lighting, tower-based traffic control systems, intelligent gate and docking automation, services and advanced analytics. ADB SAFEGATE has more than 1,100 employees across 45 nationalities in 25 countries, and operates in more than 175 countries, serving more than 2,500 airports globally, from the busiest and largest like Atlanta, Beijing, Dubai, Heathrow, Charles De Gaulle, Amsterdam, Frankfurt, Istanbul, New Delhi and Changi, to fast-growing airports across Asia and Africa.