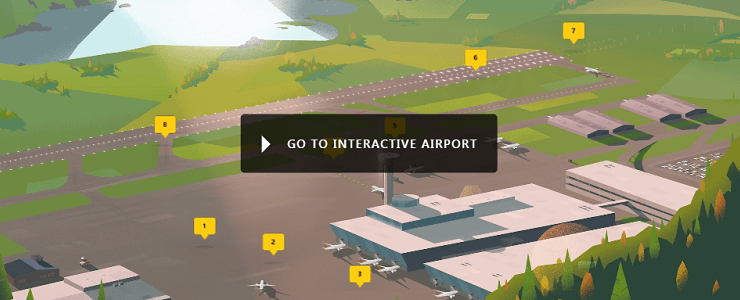 By letting all parts of your airport work together as one unit we help you unlock your hidden potential for airport traffic expansion. With our leading solutions for gate, airfield, tower and service, connecting the entire airport, you are supported for more and safer aircraft movements.
The interactive airport map will guide you to explore how integrated airport solutions can help add value in a number of crucial areas on the airport. Click on the figures on the map to find out more about how our solutions for gate, airfield, tower and service can be integrated to help increase efficiency and safety at your airport:
Do you want to read more about integration? Download our Positioning Paper: Join the Time Savers: How integration helps improve efficiency. Or contact us directly. For all general queries, please contact us at marketing@adbsafegate.com
Or find an ADB SAFEGATE office near you. Our knowledgeable sales representatives are just an email or phone call away. You can also visit one of our regional pages to learn more about your local market and what we can do to help.
ADB SAFEGATE is a leading provider of intelligent solutions that deliver superior airport performance from approach to departure. We partner with airports and airlines to analyze their current structures and operations, and jointly identify and solve bottlenecks. Our consultative approach enables airports to improve efficiency, enhance safety and environmental sustainability, as well as reduce operational costs. Our portfolio includes solutions and services that harmonize airport performance, tackling every aspect of traffic handling and guidance, from approach, runway and taxiway lighting, to tower-based traffic control systems and intelligent gate and docking automation. ADB SAFEGATE has 900+ employees in more than 20 countries and serves some 2,500+ airports in more than 175 countries.