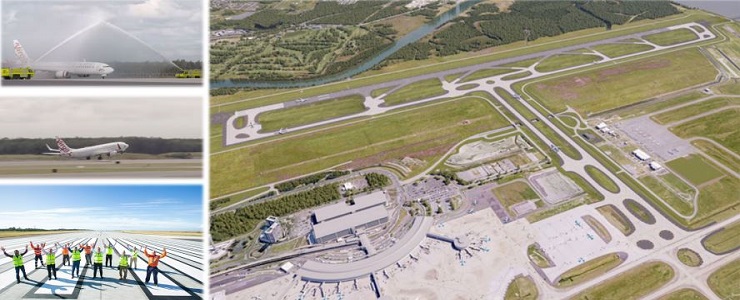 BRISBANE. One year since Brisbane Airport's new runway opened, we take a look at how ADB SAFEGATE provided a turnkey AGL delivery for the most challenging airport project in Australia's recent history. Tackling dredged sand and a high water table with a massive civil build, before installing and commissioning electrical infrastructure and airfield systems, our team completed the project in under 2.5 years. The airport now has a world-class parallel runway system, supporting up to 110 aircraft movements per hour. It's the country's most efficient, and comparable to international airport hubs like Singapore and Hong Kong in terms of capacity.

Brisbane Airport is a 24/7 operation, and the use of a single runway (the cross runway – RWY 14/32 which has since been decommissioned – was not large enough to support bigger aircraft) created capacity constraints. Prior to the opening of Brisbane's new runway, maintenance on the Legacy Runway (RWY 01R/19L) was limited to planned three-day shutdowns twice a year. By 2012 capacity had already been reached
Parallel runway: A long time coming
Brisbane's new runway was envisioned as a solution to these operational and capacity challenges, as early as the 1970's. But it was only in 2014 that work actually began – 360 hectares of land was reclaimed, 11 million cubic meters of sand dredged from Moreton Bay, and placed on the site.
In 2017, ADB SAFEGATE was awarded the contract to design, supply and set up a fully integrated intelligent airfield lighting infrastructure for the runway – comprising 60% airfield systems and 40% civil construction. The scope included 2000-plus LED lights for the runway, taxiway and other areas, SafeControl AGLCMS (airfield ground lighting control and monitoring system) with full ILCMS (individual light control and monitoring system), future-proofed for Follow The Greens (FTG) capability. We would also deliver new LED PAPI's, RVR (runway visual range) and over 400 kilometers of cable, stop bars on the new runway (while also installing these on the existing runway), and interface into the Airservices INTAS (integrated tower automation suite) system to enable lighting control from the tower. In addition, we would undertake the civil infrastructure works, conduit, pits foundations and in pavement trenching for the multipiece housings.
Proving our mettle with a flexible mega build
ADB SAFEGATE, began on the AGL related civil works in 2018. The airfield lighting installation was particularly challenging and required the development and implementation of new cutting-edge installation techniques. Since it was being built in sand with a high water table, there was a massive civil engineering component. This included the concrete encased duct banks, entirely carried out in-house by our ADB SAFEGATE teams. The requirement for complex integration with construction of pavements, drainage and other ground services, saw a multi-interface team taking charge.
The project landscape was always changing and required very fast adaption. It wasn't a linear installation scenario. Rather, work was carried out concurrently in multiple locations and at different stages throughout the entire delivery. This required extensive training, planning and coordination of large teams. Plans were always being adjusted and updated.
The delivery of the AGL required an interface with every other discipline working on the delivery of Brisbane's new runway, from drainage and pavements to power and landscaping – and made it an extremely unique and complex challenge compared to a typical AGL install.
From design and concept to operational implementation, the AGLCMS took nearly 2.5 years. It was a highly technical system since Brisbane Airport Corporation, which operates the airport, opted for an ILCMS (individual lamp control and monitoring system) using power line technology, an intelligent platform. This involved coordinating and building consensus between multiple stakeholders, including the ANSP (air navigation service provider), airport, network infrastructure, ATC (air traffic controllers) and the INTAS team. Our long and successful history in delivering such platforms collaboratively was essential in the delivery of this project, with local in-house design and development specialist teams supporting the project team when required. The system was installed on time in a live operational tower environment, and without any operational downtime – a remarkable achievement.
A runway for the future: safer, more available and sustainable
With the addition of the new runway, Brisbane Airport can support up to 110 aircraft movements per hour, bringing the airport on par with major global airport hubs like Changi Airport (Singapore) and Chek Lap Kok (Hong Kong).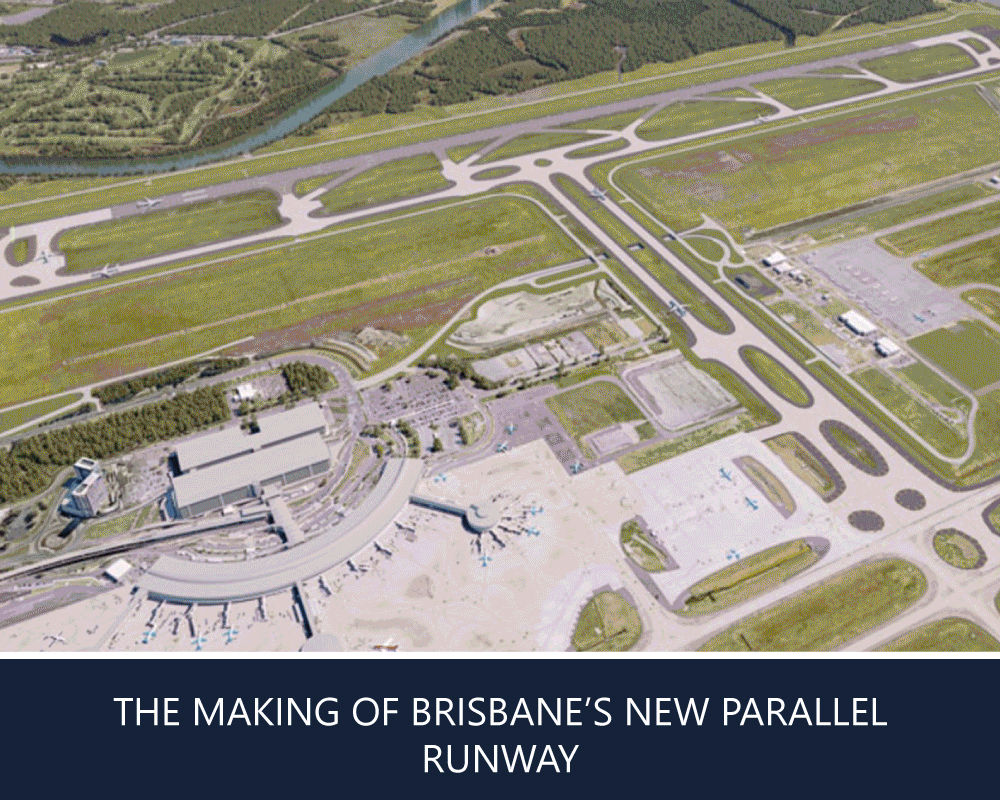 Safer, lesser downtime: Since each lamp conveys its status to a central monitoring system, detailing its operational state (on/off/not operating correctly) in real time, AGL system compliance can be monitored 24/7 ensuring the highest possible levels of safety, especially in low visibility operations. This also means reactive maintenance is tactical and immediate, which provides enormous benefit to a 24 hour-operations airport and minimizes operational downtime.
We also installed stop bars on both the new (RWY 01L/19R) and legacy (RWY 01R/19L) runways under the project scope. This provides a ringfence around their runways to ensure that there are no runway incursions by either vehicles or aircraft.
Flexible, future-proof: Traditional AGL systems are limited in their flexibility by the hardware installed, meaning that typically all aerodrome lighting is on or off. In an ILCMS, circuit segmentation is now in software, not hardware. This means that lights can be illuminated in pre-determined patterns, to show standard taxi routes to mitigate the risk of taxiway incursions (i.e. taxiways where planes should not taxi down are not illuminated, so planes cannot go down these routes). This is effectively an example of "follow the greens". BAC's system is ready for Follow the Greens in future operations.
Sustainable: Apart from the energy savings – up to 80% that LED lighting delivers vs. halogen, the ILCMS means that lighting that is not required to be on, is switched off (e.g., if a taxiway is only operating in one direction, then only that direction will be illuminated). This saves a tremendous amount of power.
Widening Brisbane's horizons:
With the capacity issue resolved, Brisbane Airport is ready for the post-COVID era of aviation. The airport will now be able offer more routes to its existing airline partners, explore new partners by improving air connectivity and making Brisbane, Queensland and Australia more accessible to the world. As travel opens up, trade and tourism are expected to recover and offer more investment and employment opportunities for the city, region and country.
Author: Daniel Anile, General Manager Projects & Operations ANZ, ADB SAFEGATE
ADB SAFEGATE provides integrated solutions that raise efficiency, improve safety, boost environmental sustainability and reduce operational costs for airports, airlines and ANSPs. The company works with airports and airlines to solve operational bottlenecks from approach to departure. Solutions encompass airfield lighting, tower-based traffic control systems, intelligent docking automation and services, as well as applying advanced IT and analytics to deliver industry-leading Total Airport Management. With more than 1,200 employees, ADB SAFEGATE serves more than 2,500 airports in more than 175 countries, from the busiest and largest like Atlanta, Beijing, Dubai, Heathrow, Charles De Gaulle, Frankfurt, Istanbul, New Delhi and Changi to fast-growing airports across Asia and Africa.