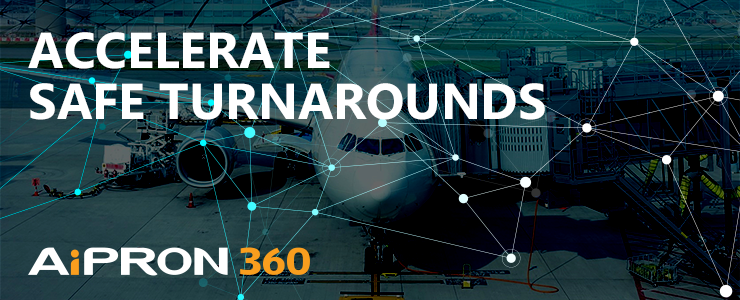 INNOVATION. AviationPros talks to Ilya Burkin about AiPRON 360, one of ADB SAFEGATE's five intelligent software modules to manage apron operations. AiPRON 360 uses advanced technologies to shorten the time aircraft are on the ground, allowing airports to accommodate more flights with existing infrastructure and helping airlines improve aircraft utilization and the passenger experience.

Below is an excerpt from the article written by Rebecca Kanable and published in Ground Support Worldwide Magazine by AviationPros, October 10, 2023. Read the full article here.
In order to ensure on-time departures, ground handlers, airlines and airports can turn to artificial intelligence (AI) software solutions to enhance collaboration, improve safety and optimize resource allocation.
From the moment an aircraft lands to the moment it takes off, AiPRON 360 – developed by ADB SAFEGATE – offers a 360-degree view of the aircraft turnaround process.
"AiPRON 360 is a game-changer in the aviation industry, transforming the way turnarounds are managed and executed," says Ilya Burkin, business development director, apron solutions, ADB SAFEGATE.
The holistic solution, introduced in February 2023, as part of ADB SAFEGATE's Intelligent AiPRON software suite, integrates AI, predictive analytics, machine learning, computer vision and real-time data processing.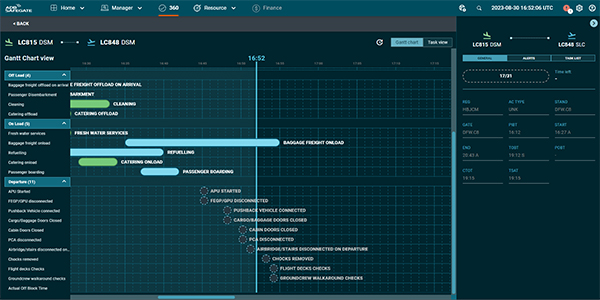 "This comprehensive approach empowers stakeholders with accurate and actionable insights, enabling seamless coordination, enhanced decision-making and the ability to proactively address potential challenges," Burkin says.
Ground handlers specifically benefit from AiPRON 360's ability to provide real-time visibility into turnaround activities, enabling efficient resource allocation and enhancing task coordination. Burkin says AiPRON allows ground handlers to anticipate potential challenges, adjust tasks in response to changing conditions, and collaborate seamlessly with other stakeholders. This, he says, leads to streamlined operations, reduced turnaround times and improved overall performance.
Within AiPRON 360, Burkin says computer vision and sensorization is enabled by the deployment of cameras and sensors strategically positioned inside ADB SAFEGATE's Safedock advanced visual docking guidance systems (A-VDGS) at the gates and across the apron. These smart devices capture real-time visual and environmental data, which is then processed using AI algorithms.
"This allows the system to interpret the data, recognize patterns and provide valuable insights," he says. "For instance, computer vision can track aircraft movement, monitor ground handling activities and even assess environmental conditions to optimize turnaround operations."
Machine learning technologies in AiPRON 360 encompass a range of algorithms that enable the system to learn from historical data and adapt in real-time. These algorithms can predict off-block times (POBT), analyze resource allocation, forecast potential delays and offer recommendations for process improvements. "They continually refine their understanding based on new data, ensuring that the system becomes increasingly accurate and effective over time," Burkin says.
Through machine learning technologies, AiPRON 360 provides predictive and prescriptive insights. They anticipate potential challenges, identify opportunities for optimization, and suggest actions to ensure on-time performance. "These technologies enhance overall operational efficiency and enable stakeholders to make informed decisions that positively impact aircraft turnaround processes," Burkin says.
When critical developments and potential disruptions in the turnaround process occur, AiPRON 360 issues real-time alerts to notify stakeholders. These alerts could include notifications about resource allocation changes, deviations from predicted off-block times, or impending delays, according to Burkin.
"Alerts are delivered through a user-friendly interface, accessible via connected devices, ensuring that the right individuals receive timely information to take corrective actions," he says.
While AiPRON 360 can function as a standalone solution, providing comprehensive visibility and optimization capabilities for aircraft turnaround operations, it is one of five add-on software modules in the Intelligent AiPRON platform to manage apron activities. Other modules include AiPRON Manager (formerly SafeControl Apron Management), which collects and presents real-time intelligence for apron operational performance; AiPRON Resource, an AI-driven and KPI-focused stand and gate resource allocation solution; AiPRON Connect, an integration solution for scheduling and tracking usage of ground service equipment; and AiPRON Finance, which provides apron-focused aeronautical revenue calculation and invoicing.
ADB SAFEGATE is a company that provides integrated solutions to airports, airlines, and ANSPs.  We are proud to be leading the way with innovative and smart Airside 4.0 solutions that turn airports into smart airports, with the ultimate goal of enhancing the passenger experience. Solutions include airfield lighting, power and control systems, airport and tower software, docking automation, apron management, and aftermarket services.  With over 1,400 employees and over 2,700 airports in over 175 countries, from the busiest and largest to the fastest-growing airports, ADB SAFEGATE is dedicated to making air travel safe, efficient, and environmentally friendly.