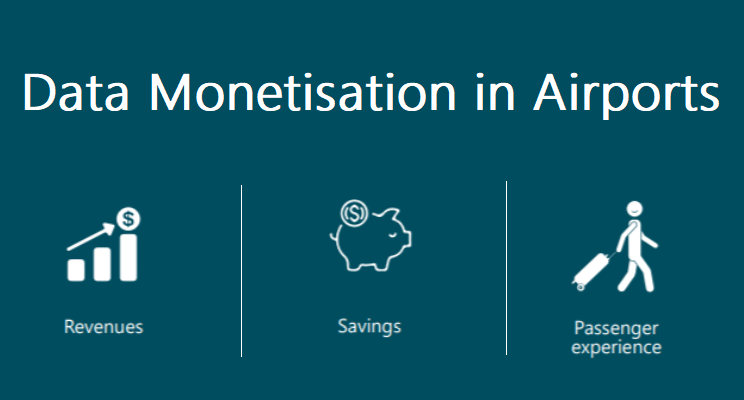 Airport Council International's most recent economic report shows a "58.4% reduction in passengers as compared to 2019" and a "60% reduction in revenues", resulting in "an unprecedented $104.5 billion reduction in revenue for 2020". Though some airports claim that sales per passenger "went through the roof" during the pandemic, it cannot save airports from the devastating effect of Covid-19. Airports must find ways to optimize their rigid cost base, to introduce more agile processes and generate new revenue streams.

Data as a source of income
I am not talking about converting a car park to drive-in cinema or yoga classes; those are cute and instagrammable actions but have little effect on an airport's finances. Over the last few months, airports have started talking about using their data as a source of income – what they can do with the myriad data, and how they can use it to generate new revenues.
Historically, airports are data-rich but data-use poor. Data is currently used mostly for operational purposes, for statistics, financial planning, and so on.
As the concept of data monetisation is actively debated, airports must also take into consideration several aspects. They must:
Understand which data they have and can use – very often information is siloed and not even shared within the organization
Realize that data monetisation is multi-disciplinary, and devising such a strategy requires collaboration between airport stakeholders and external partners
Have a suitable IT infrastructure, which facilitates data integration, distribution and is flexible and robust to address new challenges.
Data monetisation is not a brand new idea: social media does it all the time, financial institutions adopted it years ago. Some airports  are very good at it and already use ADB SAFEGATE technology as AODB, BRS and open APIs to develop new revenue streams.
Personally I see myriad opportunities for airports to use their data to increase both aeronautical and non-aeronautical revenues, improve passenger experience and create a more collaborative eco-system. And there's no better time than now for airports to talk to their partners!
If you're interested about how our technology can support data monetization,
contact me via email or LinkedIn. >>
Find the mentioned economic report from Airport Council International here.>>
ADB SAFEGATE provides integrated solutions that raise efficiency, improve safety, boost environmental sustainability and reduce operational costs for airports, airlines and ANSPs. The company works with airports and airlines to solve operational bottlenecks from approach to departure. Solutions encompass airfield lighting, tower-based traffic control systems, intelligent docking automation and services, as well as applying advanced IT and analytics to deliver industry-leading Total Airport Management. For more information about ADB SAFEGATE, please visit our website at adbsafegate.com.